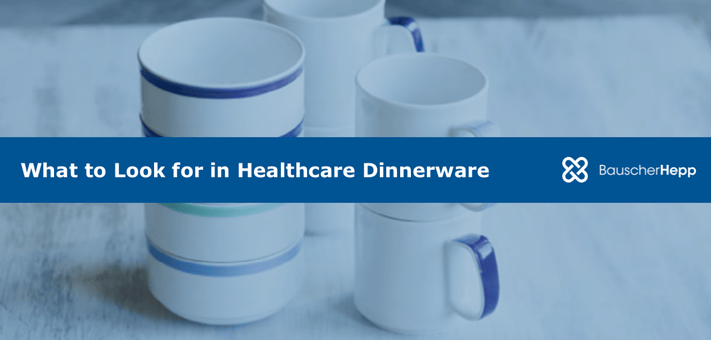 Dining with dignity is an essential part of a successful patient experience. But it doesn't exist in a vacuum. It takes thought, preparation, and a commitment to providing service that is both safe and enjoyable.
From the staff who serve dishes to the dishes themselves, every aspect of healthcare dining needs to be considered. And dinnerware is an essential part of that equation.
Dinnerware should be designed in ways that support patient dining habits, while keeping in mind some of the limitations a patient might have. For example, a bowl that has a steep wall will make it easier for patients to get food onto a fork or knife, while plates with colorful décor will enhance visibility and enjoyment.
These are just a few ways healthcare dinnerware can help create successful hospital dining experiences, but there's more to it than just that. At the end of the day, in terms of healthcare foodservice, patients are actually customers.
[Learn more now. Download the BauscherHepp Hospital & Care Guide.]
What to Look for in Healthcare Dinnerware:
Healthcare Dinnerware from the Patient Perspective
As mentioned above, healthcare dinnerware should be easy to use and visually appealing. These are the main points of emphasis for patients.
Healthcare Dinnerware from the Staff Perspective
One issue hospitals often encounter is a lack of space. This means dinnerware should be easy to store and easy to transport. Optimum space-saving stacking, for example, will result in fewer dispensers and shorter paths for kitchen personnel.
When considering an entire dinnerware system, it's important to look for solutions that are functional and coordinated. This makes the meal preparation process easier, and it makes handling and delivery more convenient.
At the same time, dinnerware that retains heat will ensure meals are always served to patients at the optimum temperatures even when transported over long distances inside the hospital or healthcare facility.
Finally, dinnerware surfaces should be smooth and easily cleanable. This results in an overall dishwashing system that is more environmentally friendly, a more effective and accurate sanitation process, and lower dinnerware breakage rates.
Healthcare Dinnerware from a Manufacturer's Perspective
From a manufacturer's standpoint, BauscherHepp creates healthcare dinnerware because we believe in enhancing the patient experience and because we know the level of detail it takes to give patients what they need to be happy, healthy, and to dine with dignity.
Using environmentally-friendly production methods that result in healthcare dinnerware that is safer, more durable, and more cost effective, especially when you consider how valuable positive healthcare foodservice reviews can be, is our goal as a company.
Learn more about BauscherHepp's unique healthcare solutions. Check out the latest version of our Hospital & Care Guide.