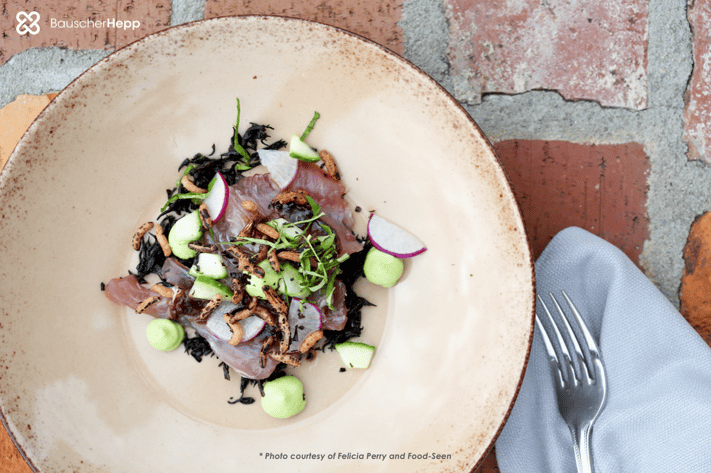 Photography has impacted foodservice probably more than any other industry in any era of business. It's impossible to browse social media without finding images of lunch or dinner, of "food porn," or of #InstaFood.
With this much exposure, it also means some people are taking better photos of food than others. When you're in the industry, this can mean the difference between acquiring a new customer or successfully promoting a new menu offering - or not.
So how can you get better? Here are some simple tips for photographing your food:
Establish the Big Picture
We're not really talking about this in the literal sense, but really the logistics. You don't need to spend thousands of dollars to successfully capture your cuisine through images. A smart phone and a food photography app can work just fine.
Yes, figuring out creative ways to incorporate the restaurant or space can be compelling, but even more important, the big picture should include consideration of plating, lighting, and composition.
Prepare Your Food for Photographs
Food is psychological. If fact, a study from Montclair State University showed that food presented in arranged presentations resulted in higher ratings for both the taste of the food and the amount of care used to cook it. To say plating is important is an understatement.
There are two important considerations when it comes to preparation. The first is composition. By starting in the middle, it makes it easier to build outward to create an element of symmetry.
The overall aesthetic is also important. Are you going for a more natural look, or something more colorful and playful? No matter what you choose, preparing your food to fit a certain aesthetic will make your food photography more successful.
Prepare the Space for Photographs
This all comes down to lighting. There's a reason restaurants and designers are considering photography when they create their lighting strategies. Good lighting will bring out the colors and textures in your food.
Consider contrasts, but try to avoid harsh shadows. Soft light can help with this. Also try to light your plates from the side versus the front.
Be an artist.
Much like a painting, a food photo can employ many of the same artistic concepts. Spacing and color. The rule of thirds. Balance. These are all important and relevant techniques that artists and food photographers should both use. Of course, these concepts can also be thrown out the window, as well.
Every masterpiece you see in a museum will also have a classic frame. The same can be said on the tabletop. Choosing the right surface, the right dinnerware, will have a big impact on the success of your food photography.
Wood and slate will provide a natural, rustic feel. Classic white will allow colors to pop. And a combination of dinnerware styles will add an element of surprise. No matter what you choose, make sure it balances or accentuates your food.
The best way to find inspiration for your food photography is to look at other great images of food.
Download the latest version of the BauscherHepp Design Guide, and discover a catalog full of inspiring images.