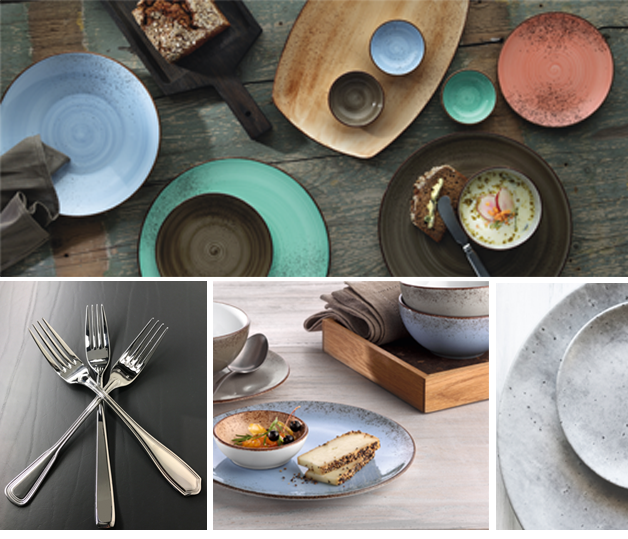 There are no rules for setting a tabletop. From colors to materials, you have the freedom to create a unique dining experience for your guests, and the only limit is your imagination. In many environments, tabletop uniformity is important for branding, overall theme, and consistency. But what about foodservice operations who want to mix things up a bit?
Mixing and matching tabletop items gives operators the flexibility to put together creative tabletop combinations that leave a lasting impression on guests. We know the way food is presented has an impactful effect on the dining experience. So why limit the artistic expression to just the food?
There's an art to mixing tabletop pieces. And while the options are nearly limitless, here are three ways to get started on bringing your unique style and perspective by mixing and matching your tabletop.
COLORS
One of the easiest ways to start mixing and matching tabletop is with colors. Develop a color theme, then implement it in your plates, bowls, cups, and saucers. A restaurant that wants to focus on blues for the table setting, can mix in various light and dark shades of blue that will surely stand out, while maintaining a consistent theme throughout. Complementary colors, like mixing blues with orange, can be just as effective to creating an exceptional style that in turn creates a dynamic meal.
PATTERNS
Varying patterns in a similar color hue is an effective way to design a memorable tabletop. But matching bold or subtle patterns creates just as much of statement. A bold pattern for larger plates mixed in with understated patterns on smaller pieces is a nice balance of fun and sophistication. The key to remember when mixing and matching patterns? Don't be afraid to test new combinations! Just like with interior design or fashion, as long as the patterns complement each other, you've created something special.
MATERIALS
Nowhere in the tabletop rule book does it say porcelain can't be mixed with stoneware or plastic. Combining different materials is another way to develop a striking tabletop setting that goes against the norms. Experiment with diverse shapes and sizes. Try mixing a vintage look with a more contemporary style.
Mixing and matching isn't just for plates, bowls, and glassware. Different cutlery combinations can add a unique twist to your tabletop. You can still use all the essential utensils for a proper, elegant meal (including sauce spoons and fish knives), but with an eclectic feel to match your creative tabletop. The beautiful thing about tabletop is that there is no one way to create the perfect setting!
Bring new life to your tabletop with the Sundry Collection from BauscherHepp, available in the latest Novelties & More digital guide.