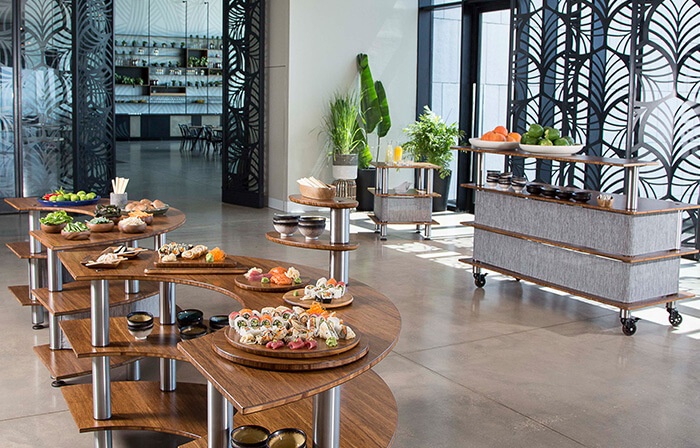 Buffet service requires a lot of moving parts and pieces, both literally and figuratively. In some cases, serving stations need to be set up inside for breakfast configurations in the morning and are then moved outside for a wedding reception in the evening.
No matter how you look at it, buffet service is complex and difficult. But there are a few things to keep in mind that can help maximize quality and cost effectiveness.
Here are three keys to a successful buffet:
Figure out the five W's.
Like a good reporter, buffet and banquet divisions must determine the important aspects of any event. Who, what, when, where, and why.
Who attends will dictate where the event can be held. What will be served, and at what time are the first questions to ask a customer? And finally, why the event is being held should dictate some of the intricate details that make service and hospitality special.
These questions will fill in a lot of gaps and should help determine menu options, as well as the equipment needed to implement those visions. For example, if you're cooking and holding 300 plates, does it make sense to use a combi oven in conjunction with holding cabinets? Can a blast chiller help during the prep process? And what type of buffet serving stations should be used to maximize ballroom space while contributing to the overall aesthetic of the room.
Be mindful during setup.
Setup is important for both guests and staff, but it's also important from an operators perspective, as well.
For guests, setup should make it easy to navigate from station to station, with a clear direction as to which section is which. For example, if bars are set up on opposite corners of the room, make it clear to guests. Tall signs can be helpful in these cases, but no matter how things are arranged, efficiency and flow are the priorities.
For staff, buffet stations should be easy to service and clean. Accessibility to restock items and serving stations that don't require extensive clean up efforts are ideal for staff members.
And finally, setup will impact operators. Just by getting rid of linens, for example, a buffet service can drastically increase ROI of the entire buffet operation.
Pay attention to the details.
Details can make or break a successful buffet, both from a quality of service standpoint and a profitability one. Operators who pay attention to the details are the ones who stand to gain, but what are they?
Discover some of those details. Download our free tips for creating a successful buffet service today.