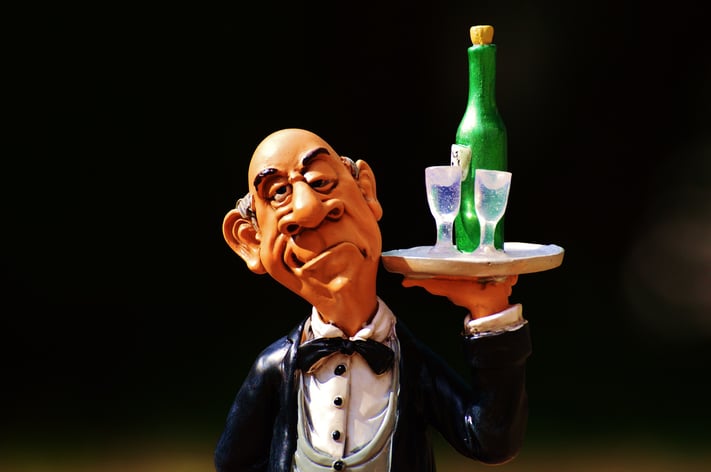 Let's pretend for a minute that you run a brewery. A couple comes up to the bar on a crowded Friday night and asks to see the menu. In that moment, you have a choice.
Choice one is to hand them a menu and go back to what you were already doing.
Choice two is to prioritize that next thing as making the couple feel as welcome and as comfortable as possible.
If number one is the choice, the couple really doesn't have any way to form an opinion on the service, on the overall experience. If number two is the choice, the following sequence of events might take place:
1) You engage the couple in meaningful conversation.
2) You find out the husband used to live around the corner several years ago and is bringing his new wife back to visit for the first time.
3) You offer them the first two beers on the house as a way to welcome them back to the neighborhood.
4) The couple is blown away by the service, with the overall experience.
5) All the good things that come with number four.
As we think about this from an operator's perspective, it leads us to a series of questions.
What is service? What is hospitality? In what ways are these two things the same? In what ways are they different? The reality is the success of a bar or restaurant, of a hotel or even a hospital, depends on how these things work together, how one contributes to the other.
In the case above, we made the couple feel welcome. We blew them away by being as hospitable as possible and by going that extra mile. But in a practical sense, what does that mean, and how can you define it? How can it be replicated?
Bobby Stuckey is the co-owner and master sommelier at Frasca Food and Wine in Boulder, Colorado, a restaurant frequently nominated as one of the country's most outstanding by the James Beard Foundation. Stuckey is also a great speaker, and in a Tedx talk, he goes into the differences between service and hospitality, which is key to learning how to replicate it.
Service, he says, is something done to you. It's handing someone a menu and then giving them their beers. Hospitality, on the other hand, is how you make someone feel. It's taking the time to care about a couple's story, and then giving them a free round to say thanks for stopping in on a busy Friday after all these years.
In today's world, we have so many choices, especially when it comes to foodservice and hospitality. This is why it's critical for guests to feel recognized, respected, validated, and appreciated, as noted in a recent Hotel Management article.
But in order to make guests feel this way, we have to approach service from a place of sincerity, from a place where we're genuinely as hospitable as possible because we actually care about making a positive impression.
After all, guests are most satisfied when our service is motivated by our desire to be hospitable and our hospitality includes a list of services that goes beyond what is generally expected.
Curious to see how we do hospitality in our Raleigh or NYC showroom?
Stop by one of our showrooms, and discover what tabletop can be for you.