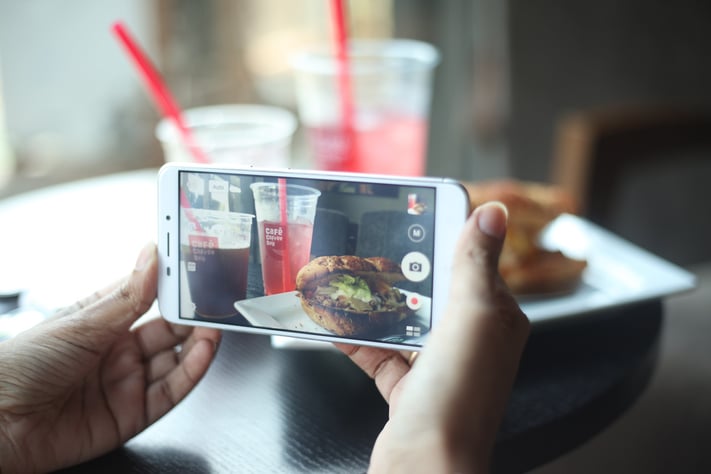 When you stop and think about it, you could argue that no industry has changed as much as foodservice in the last 15 years.
We've seen the rise of celebrity chefs to rock star status. The farm-to-table, sustainable movements have transformed menus across the country. And there to capture it all has been the likes of Facebook and Instagram.
People are taking pictures of their pancakes. They're documenting the different way to use dashi kombu. They're taking videos in their favorite vegan restaurants. And then they are sharing these things with everyone they know.
But whether you use these social platforms or not, their impact has been widespread in the foodservice industry. The reality is they are also here to stay.
In a recent article in the Nation's Restaurant News, analyst Nancy Kruse and senior food editor Brent Thorn debated the current trend of social media and food photography, and the resulting dialog was fascinating.
Consider a few of the facts raised in the article:
* As of the date the article was written, there were 217,351,183 Instagram posts using the hashtag #food.
* Restaurants are now considering food photography when creating their lighting schemes.
* It's the user generated content from diners that has the greatest impact on social media, though operators are now utilizing it more and more with positive effects.
Despite their different opinions on food photography and the use of social media in foodservice, they both agreed in the impact they are having. In fact, the financial impact of food photography is becoming so great that the National Restaurant Association devoted an entire session at the recent NRA Show to food photography and how to make it attractive on social media.
What does this all mean?
First of all, it means we're more "connected" than ever before. People like to share their experiences, their foods, and their beverages. Dining is as important now as it's ever been in our nation's history.
Second, it means operators need to consider these trends when developing their restaurant layouts and menu concepts. The Nation's Restaurant News cited Starbuck's brightly-colored concoctions as an example as to why restaurants and foodservice operators really need to consider how people "eat with their eyes" first.
Lastly, and especially in fine dining concepts that are more chef driven, plating and presentation are critical. How foods are framed directly affects the photogenic qualities of those dishes, making dinnerware and porcelain more important than ever.
If you're a foodservice operation looking to maximize the potential of food photography, check out the new BauscherHepp Design Guide to see a full range of tabletop solutions that will call attention to your cuisine.