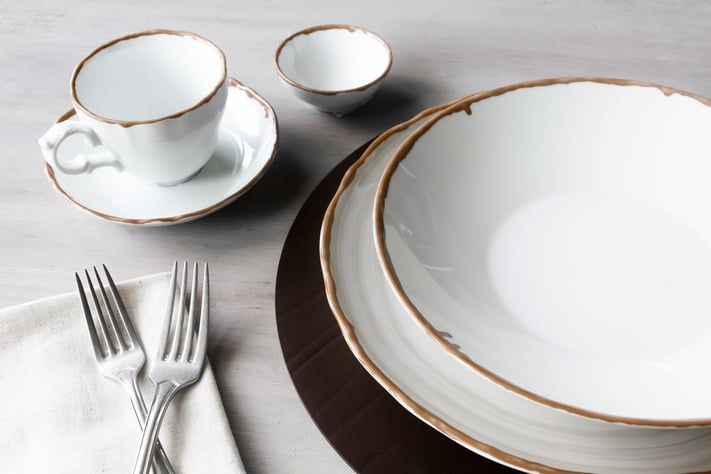 The phrase "it's all about the food" is often used when discussing the end goal of chefs, restaurant owners, or food and beverage directors. And while it is all about the food in most culinary circles, it certainly isn't only about the food.
Before we even pick up a fork and get a taste of a chef's creation, other senses such as smell and sight begin the experience for us. Presentation is an integral element in the success or failure of any given dish, and with the right dinnerware, you have the ability to grab hold of your diners and guide them into the journey from the moment the dish is presented.
Why Dinnerware Matters: Presentation
To say that formerly obscure aspects of the culinary world have made it to the mainstream would be a big understatement. With the emergence of cooking shows, celebrity chefs, and social media, we have more exposure than ever. It's not uncommon for people to take pictures of restaurant dishes and post them to social media, just seconds after they've been served.
Food no longer has to just taste good; it also has to look the part, engaging diners on a deeper level. In a word, it needs to be "shareworthy". A chef's dinnerware preferences may range from a basic round or oval white plate to a square earthenware bowl to a wooden plank lined with rustic designed serving spoons.
Dinnerware is now part of the overall experience, and it matters because the variety available allows chefs to express themselves in the most genuine way possible. How the food is presented and the material and shape it's presented on gives the full story, and as such, a full experience. Sometimes, a chef may want to deconstruct and miniaturize a larger dish. She may want to reflect the nature or texture of the dish with the dinnerware, or he may want to challenge the diners by having them eat the meal in an unconventional way.
Beyond Presentation: What Else Matters?
We could go on and on about presentation, but in reality, there are other factors that chefs and operators consider when purchasing dinnerware. Even as the boundaries of the culinary experience are changed and crossed, there are a handful of needs that will always remain the same.
Durability
In reality, you could substitute the world "durability" for the notion of cost effectiveness. Some dinnerware might be cheaper today, but in the long run, it's always more cost effective to buy quality. If a four dollar plate lasts two years but a six doller plate lasts five and actually looks better, which is actually "cheaper"?
Design
Just like anything else, dinnerware should convey good design. Ideal for today but capable of remaining in style for decades to come, dinnerware is an expression of the entire operation. Operators making an investment in dinnerware want something that will still be relevant in five years. They want good design.
Reputation
It goes without saying that cheap products lead to cheap perceptions. Just like the ingredients that go on the plate, that plate itself matters. Operators can source the cheapest tomatoes or the least expensive salad bowls, but those details will contribute to the overall perception and reputation of the establishment.
Discover a full range of first class dinnerware that will provide durability, set all the modern trends, and enhance the reputation of your establishment. Check out the Bauscher Hepp Design Guide.