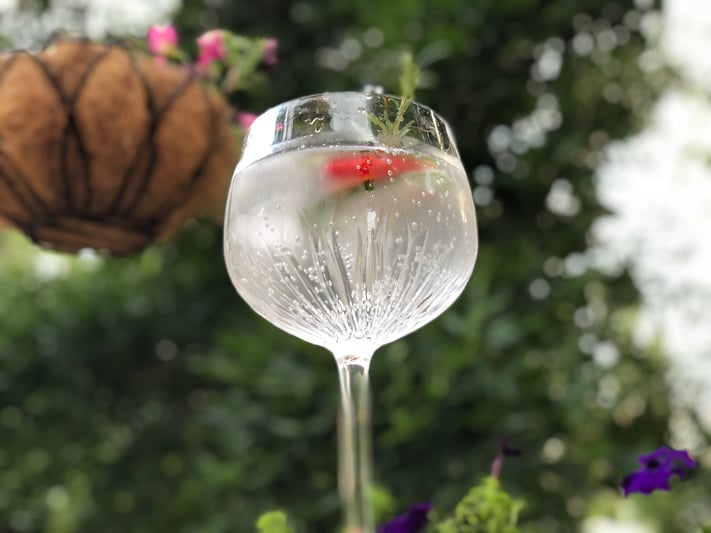 If you understand the basic evolution of the gin and tonic, you likely know there are a few surprising facts in how far this simple yet complex cocktail has come.
First of all, it's achieved it's true greatness and glory, not in the United States or the U.K., but in Spain.
And second, to fully achieve all the enjoyment a gin and tonic can provide, it's actually best to serve them in copa glasses, or bulbous wine glasses, versus a traditional highball or Collins glass.
But why should you serve your gin and tonic in a copa glass?
The Copa de Balòn has a bulbous bowl that sits atop a stem, much like a red wine glass. They were first used in the 1700s in the Basque region of northern Spain in some of the same towns and cities where the modern Gin Tonica rose to prominence.
According to stories, modern Basque chefs began drinking Gin Tonicas out of Bordeaux glasses to keep them cool, which is one major benefit to using a copa glass versus highballs.
Copa glasses can keep gin and tonics colder than a Collins glass.
By providing more room for ice along with a stem that protects liquids from body heat, the copa de balòn can keep gin and tonics colder than traditional glass types. In the hot summer kitchens of San Sebastian, the 'copa serve' will accommodate large volume ice to keep drinks cold until the very end, without all the dilution.
If you ask any aficionado of the Spanish Gin Tonica, its coldness is always at the top of the list when it comes to enjoyment.
Copa glasses open up aromas and flavors.
Like wine, a copa glass will collect aromas and flavors of gin, tonic, and other herbs used to flavor Spanish Gin Tonicas to provide a better tasting experience. The shape of the balòn glass allows the botanicals of a good gin to come to the forefront, and it will accentuate complimentary herbs or spices used in gin and tonic varieties.
Even though it's such a simple cocktail, the interplay between different types of gin, tonic water or syrup, and the herbs used to garnish them, Gin Tonicas require a full, bowled glass to bring forward all the aromas and flavors.
Sample a copa de balòn Gin Tonica, and discover the difference yourself.