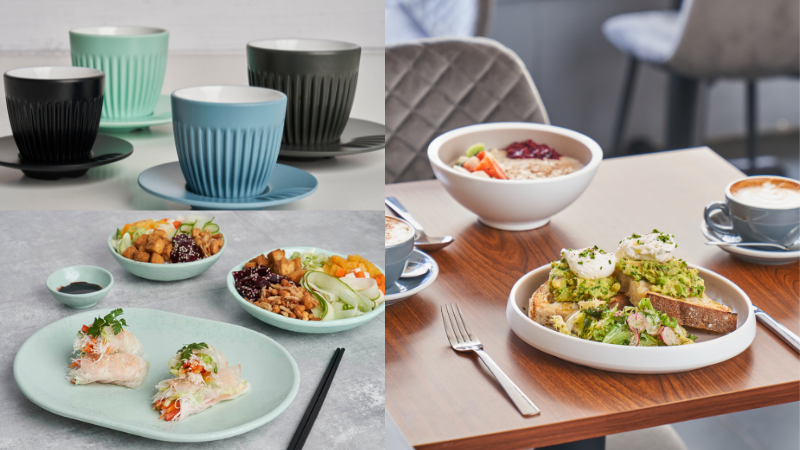 The warm sunshine of summer invites many of us to enjoy our brunches, lunches, and dinners outdoors - either in the cool shade of an umbrella-topped table, or in the rhythmic hum of central air conditioning. Whether you are dining al fresco or not, celebrate the second half of summer with these new and updated collections from Dalebrook.
The Mineral Collection
What's new? New shapes
Our Favorite Spot to Enjoy It: Savoring a bright lunchtime meal by a turquoise pool
The already extensive Mineral Collection from Dalebrook has been a long-time favorite, and it has only gotten better. Now offering new shapes to this line, you can order coupe plates, oval platters, two new bowls, and ramekins in a variety of sizes and five - yes, five! - different colors including:
Parchment/Cream

Grey

Indigo/Blue

Aqua

Noir
The organic, handcrafted beauty of this collection truly lies in its unique "crackle" appearance which gives both depth and texture to each item - creating an almost crystal appearance. The rough spun edges suggest a handcrafted look, but with the durability of melamine, you know these beauties will last.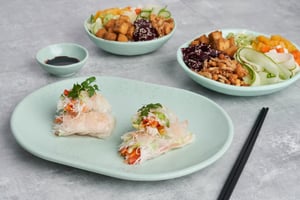 The Trafalgar Collection
What's New? New colors
Our Favorite Spot to Enjoy It: Under the evening streetlights with good friends and good wine
If you're craving something more modern, check out the Trafalgar Collection, which now boasts two new colors. The matte finish on this collection creates a clean background to showcase multiple items on your table. From canapes to petit fours, these spacious square plates and platters are the perfect products for both indoor and outdoor use. With the addition of sleek moody purple (Grape) and the velvety warmth of two-toned beige and white (Cream), every item in the Trafalgar Collection is a stunning piece in a group or on its own.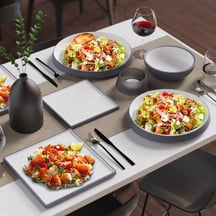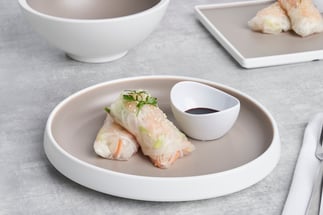 The Talon Collection

Brand New Collection!

Our Favorite Spot to Enjoy It: Savoring an early morning meditation at a quiet neighborhood cafe

Finally, we would be remiss if we didn't re-introduce the Talon Collection. This drinkware was a showstopper at the National Restaurant Show in Chicago in May - with good reason! Dalebrook has exquisitely designed this collection to not only function as beautiful drinkware, but to handle even the most extreme beverage temperatures. The Talon collection comes in four gorgeous colors (Steel, Mint, Ash, and Noir), and can withstand a beverage up to 248 degrees Fahrenheit. If these handleless cups can manage that - all while maintaining their gorgeous color wash after wash - what can't they do?
If you haven't already fallen in love with the beauty, versatility, and durability of Dalebrook's melamine, now is the time to check it out. Everything you see here is in stock and ready to order. Contact us for more information or to visit one of our showrooms and see what you've been missing.