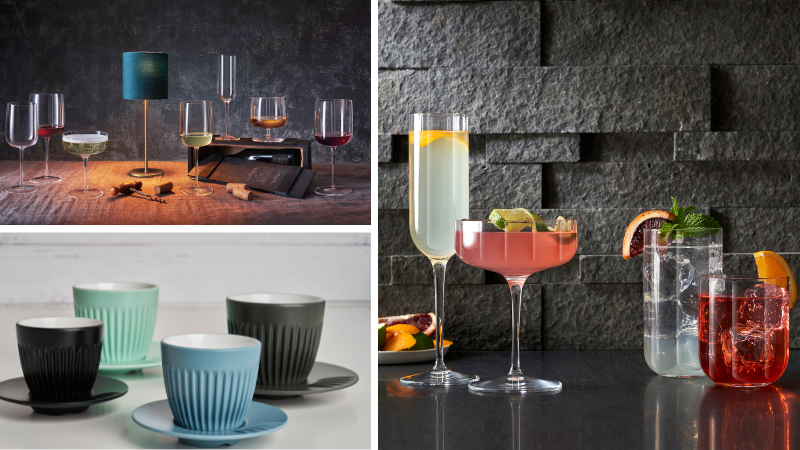 Last month at the National Restaurant Association show in Chicago, our team was very excited to meet with partners, friends, and customers to hear their take on new collections from our brands. With longer days and warmer temperatures being enjoyed across the country, we know that means one thing: outdoor dining is in full swing. Whether you are serving spicy Bloody Marys by day or refreshing Mojitos by night, we have the perfect drinkware you've been waiting for.
1. Vinalia by Luigi Bormioli
Our Favorite Summer Holiday to use Vinalia: June 3 - National Bubbly Day
Is it a coincidence that there are seven glasses in this collection and seven hills of Ancient Rome? We don't think so. Reminiscent of its old-world splendor and power, Luigi Bormioli pays tribute to the history of Rome with glasses meant for celebrating: from bubbly Champagne and dry Chardonnays to soft Pinot Noirs and bold Cabs, the Vinalia collection is the perfect crowning touch to your table.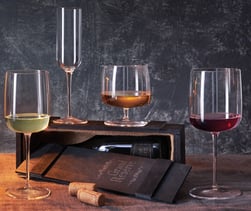 2. Jazz Collection by Luigi Bormioli
Our Favorite Summer Holiday to use the Jazz Collection: Week of June 18 - National Craft Spirits Week
If you already love the Jazz Collection from Luigi Bormioli, you'll be excited to learn they have added three new styles to their collection: Negroni, Spritz, and Rum. Mixologists and bartenders will rejoice with endless inspiration from these elegant and sophisticated glasses. Designed for the purist cocktail-maker in mind, each glass allows the full flavor of its contents to be savored with every sip.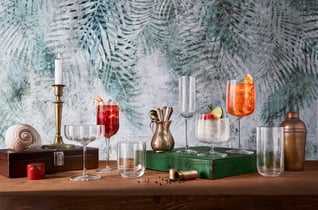 Our Favorite Summer Holiday to use True Flavour: July 26 - National Coffee Milkshake Day
Did you know there was such a thing as a coffeeologist? There is, and WMF Professional has them. Coffeeologists at WMF have released their new True Flavour crystal glass collection that can do what other crystal glasses have not done before: hold boiling hot beverages while elevating the full enjoyment of the drinking experience. From oat milk cappuccinos to matcha green tea smoothies, the versatility of this collection made it a standout in Chicago.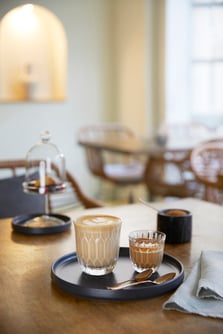 Our Favorite Summer Holiday to use Talon: August 7 - Afternoon Tea Week
With its nearly unbreakable melamine structure, these handleless coffee cups and saucers are some of the sleekest designs from brand favorite, Dalebrook, in colors we can't get enough of. From modern Noir and Ash to trendy Mint and Steel, you'll find beauty and function with these corrugated designs that protect the user from extreme temperatures. After all, a calming cup of tea deserves to be enjoyed all year long - no matter the temperature outside.
Whether you crave sweet or smoky, chilled or hot, there is bound to be one beverage "holiday" that speaks to your soul this summer. Between sips of water (of course), enjoy your favorite libations - and perhaps discover something new- while experiencing the best these collections have to offer.
Interested in seeing these products up close? Talk to our team today and schedule an appointment in one of our showrooms: Contact Us