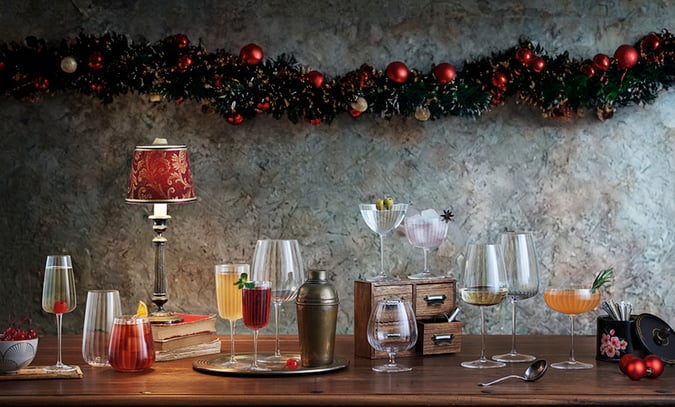 Although storefronts are showcasing their ghoulish Halloween and cozy fall decor right now, we can all taste what's just around the corner: the holidays. You may be expecting large parties for holiday buffets and office get-togethers. Or your restaurant is planning for the rush of families and friends visiting during their winter vacation. Regardless, now is the time to begin prepping for the holidays. Here are some of our recommendations to prepare for success this holiday season.
1. Order Durable Products
One thing that you know you can plan on this holiday season: your plates and buffet supplies will get a lot of "love" (and by love, we mean wear and tear). Restocking for the holidays is the time to invest in durable products that can be scraped, washed, and dropped - without breaking or cracking. Our extensive portfolio of products from Dalebrook consists of durable melamine perfect for the buffet line, like these Interchangeable Stands. With the ability to last over 500 cycles, melamine is hard to break, easy to clean, and stain-resistant - making it one of our favorite materials.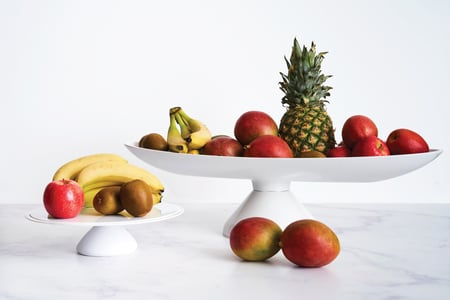 2. Invest in the Best Chafing Dishes
Few things will unravel holiday merriment faster than cold food that's supposed to be warm! To keep the good times rolling, invest in the best induction chafing dishes on the market from Hepp and WMF. Available in three shapes (round, rectangular, and square), these dishes are compatible with induction, electric, and canned heating sources. With insulated handles, a built-in condensation return system, and large glass lids, each piece is as functional and safe as it is beautiful. Check out all of our chafing dish options here.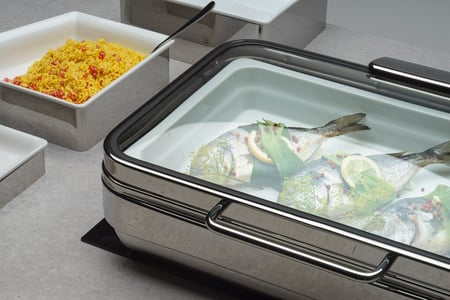 3. Create an Eye-Catching Set-Up
Whether this time of year includes corporate holiday parties or extended family brunches, each event should include a memorable touch that will bring clients back to you throughout the year. Now is the perfect time to show that large gatherings don't have to mean "impersonal." Choose products that allow multiple, customizable setups that speak to your customers.
With the Quadro collection from WMF, you can control the workflow of your buffet line from food preparation to presentation. This collection offers understated, minimalist design in materials such as glass, wood, and porcelain.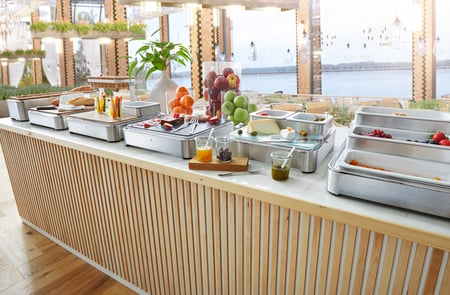 Or, for a buffet line with a little more "edge," check out the asymmetrical designs and unique material combinations like melamine, stainless steel, and fabric from Hepp's Sequence collection. Either option puts you in the position of creating a presentation as unique as each of your dishes.

4. Finally, Don't Skip the Sparkle
This time of year encourages us all to come together and reflect on our relationships. And, if even for just one meal, to hopefully put aside differences and share space at the table. The holiday "toast" is the perfect moment to capture this all-too-fleeting season and it requires the perfect glass to accompany it. With Italian glassmaker, Luigi Bormioli, their retro Speakeasy collection offers the gold-standard finishing touch for champagne, cocktails, and more.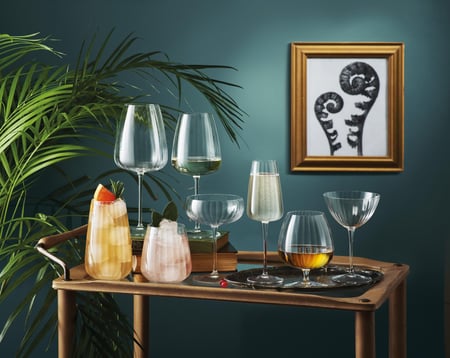 If you would like to see any of these collections in person, stop by one of our national showrooms. Or be sure to reach out as soon as possible to get your orders in now! The holidays will be here before you know it.