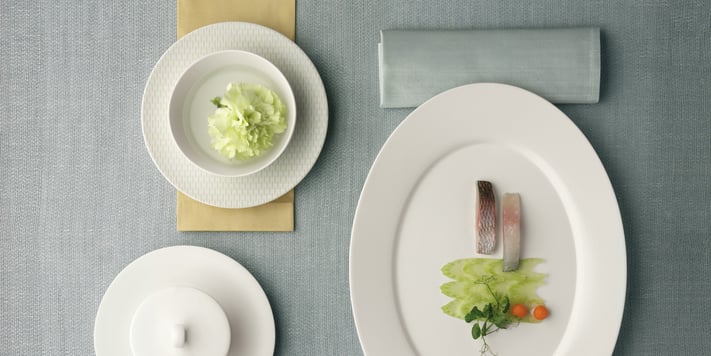 Commercial dinnerware provides many benefits to a foodservice operation. It's a delivery platform for the operation's products. It's a way to provide ambiance and create unique dining experiences. And it's an opportunity for an operation to ultimately increase return on investment with quality, durable dinnerware.
So what are the considerations someone should look for when selecting dinnerware in their restaurant, hotel, hospital, or general foodservice operation?
And what makes BauscherHepp porcelain different from all the rest?
It's made in Germany.
BauscherHepp's porcelain brands are committed to 100 percent production in Germany. Not only does this allow us to control the quality of our manufacturing, it also allows us to control pricing, in large part due to controlling fuel efficiency. Another benefit to doing our own manufacturing in Germany is the ability to commit to sustainable practices and green initiatives.
We have the hardest glaze in the industry.
Glaze is one of the most important aspects of dinnerware, and BauscherHepp has the hardest glaze in the industry. When glaze wears down, the clay underneath is exposed to food and other unwanted elements, and more critical, to the bacteria those elements contain. Consider healthcare dinnerware. When glaze breaks down and patients are exposed to bacteria, the healthcare food service isn't accomplishing it's number one objective - keeping patients safe.
Our plate sizes are consistent.
Over time, the manufacturing of dinnerware can lead to inconsistent printing. BauscherHepp porcelain is consistent with our sizes, meaning operators don't have to worry about strange aesthetics or issues related to stackability.
Our plates don't have glazed feet.
Adding glaze to the foot of a plate might seem like a good thing, but in reality, it's just the opposite. When a foot is glazed and it's stacked on top of another plate, the foot can actually wear into the top of the plate causing degradation in the areas where glaze is most important.
We concentrate on longevity over trendiness.
Yes, we have new collections emerging regularly, but it's important for operators to know their chosen dinnerware patterns will not go out of production or expire. With BauscherHepp and our family of brands, we're committed to not only the latest styles, but also to the notion those collections and styles will be around for years to come.
Ready to see our collections? Read the Bauscher Hepp Design Guide, and discover a full range of dinnerware solutions to suit your needs.