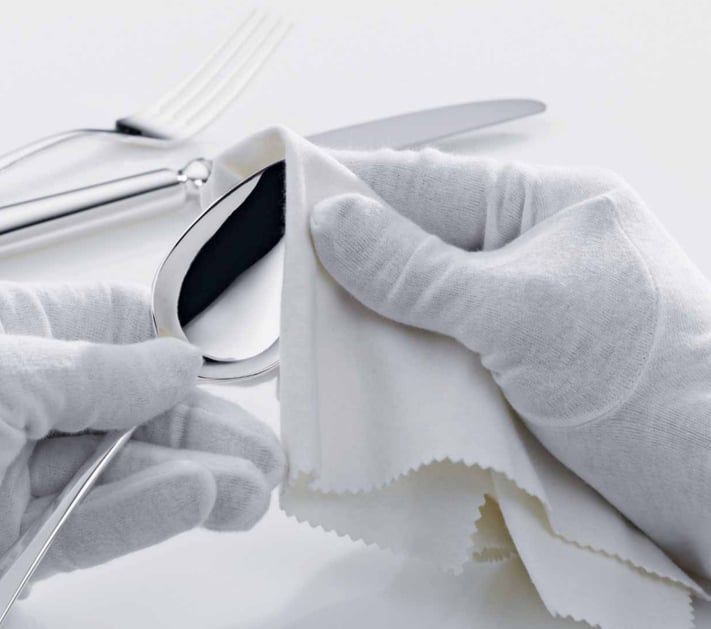 Maintaining your tools and keeping them in peak condition is a practice dating back to the beginning of time. That extends to the table as well. Dining utensils are arguably the most commonly used tools in our society today. For restaurants and foodservice operations, silverware is put to work every day, if not every hour. How can these essential dining tools withstand the test of time?
[Read the BauscherHepp Flatware Selection Tips for the basics of cutlery and flatware]
Silverware maintenance is crucial to the success of any foodservice operation. Long-lasting flatware saves money by eliminating the need to frequently replace damaged or dull flatware. Additionally, flatware is one of the first things a guest notices when sitting down at their table. Shiny, well-maintained cutlery is a sign of quality in restaurants. So what must foodservice operations do in order to maintain that shine and durability?
Let's examine the steps to proper silverware maintenance.
CLEANING
Prewash
Cleaning silverware involves more than running it through the dishwasher. Prewashing silverware is an important and sometimes ignored step of silverware maintenance. The prewash process should be done immediately after each use, as foods like coffee, vinegar, salt, mustard, and eggs are acidic or contain properties that can damage silverware if left on for too long. Prewashing involves submerging the utensils in a warm bowl with only alkaline and chlorine-free cleaning agents. Limit the prewash soaking to about 20 minutes, as leaving flatware soaking overnight could cause corrosion.
Machine Wash
When it's time to machine wash silverware, keep several factors in mind. First, keep cutlery of the same material in separate cycles, like stainless steel or sterling silver. Next, be aware of the dishwasher detergent being used. The protective coating on flatware can be eroded by detergents containing bleach. Lastly, loading the silverware into the dishwasher must be done properly to ensure both safety and uniformity. Place forks and spoons with their handles down, and keep knives separate with their blades facing down.
Drying silverware as soon as possible after cleaning is imperative. This avoids spotting, streaking, corrosion, or other permanent damage in your foodservice operation's flatware.
STORAGE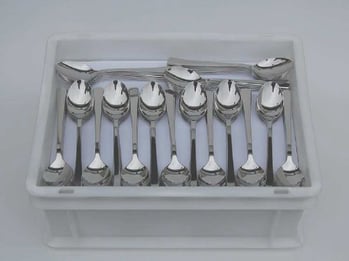 Make sure everything is clean and dry before storing silverware. This prevents possible corrosion. Wherever you choose to store your silverware, make sure the room is dry and not air conditioned. Plastic racks are ideal to store flatware, but keep the utensils organized and spaced apart, not just piled up. If storing silverware for longer periods of time, wrap the racks in plastic film to prevent oxidation.
MAINTENANCE
There are several ways to your operation's silverware always looking its best. Although high quality flatware rarely needs regular polishing, sometimes it's good to give it an extra shine before a big event. Silver polish paste can be used with a soft cloth and rubbed into the silverware, removing small scratches and streaks, while adding some brilliance to your flatware. Olive oil is a great alternative to commercial cleaners, and when used in conjunction with vinegar, can be a natural solution to restoring shine or removing rust spots.
In some cases, discoloration of silverware can occur due to oxidation from factors like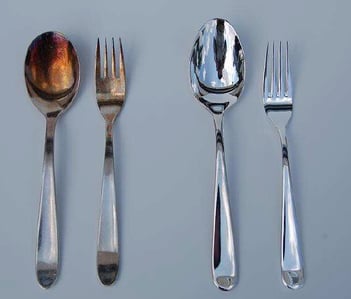 humidity or exposure to daylight. For these instances, proper silver maintenance is needed. For cutlery and small utensils, a silver bath is an easy solution. A silver bath creates a chemical reaction that transfers the oxidation from the silver items to the silver cleaning sheets and an aluminum insert. Another method for silver care includes hardening and polishing through a polishing machine, which increases durability by compressing the silver layer.
Following these steps to maintaining silverware will keep your tabletop looking sharp from open to close. But does your foodservice operation have the right flatware to begin with?
Learn more about selecting the right type of flatware for your operation in the BauscherHepp Flatware Selection Tips, which are available free for download.