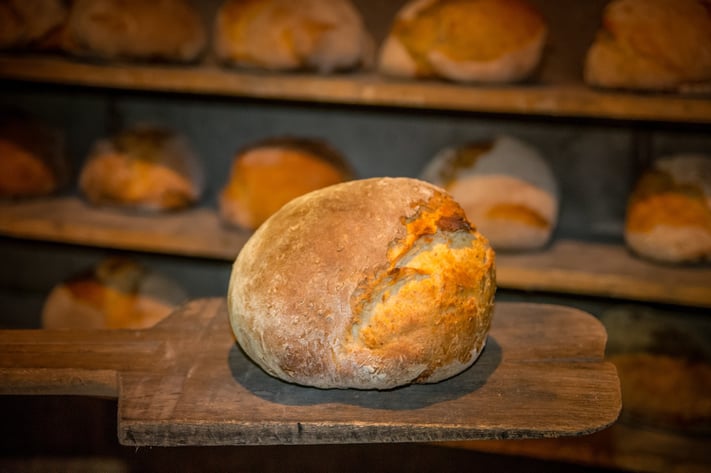 When we sit down for a meal, there are periphery elements that can make it more enjoyable. Some are visual and add a unique aesthetic, like candles or flowers, while others are actually edible, like bread.
Bread and butter are literally on the edges of our meals. They don't just frame the center of the plate, they're on a different plate all together. And for restaurants and foodservice operators that pay attention to these details, diners will enjoy "11 o'clock" on the traditional table setting more than ever.
Bread is often a diner's first impression.
Bread service is often delivered at the beginning of a meal. In many cases, the bread is the first experience customers have. Bread will set the tone, and the flavor, for things to come. It can be a restaurant's only chance at a first impression.
Bread service is also a chance to show off.
Many fine dining establishments or hotels will create their own in-house breads. This gives operations, and the pastry chefs doing the work, the chance to show off their skills. Consider creating artisan breads that complement dishes, and add a whole different element to the dining experience.
[ADDITONAL READING: Find your elements; plate with nature.]
Bread can induce hunger.
Though there's a lot of debate on this one, many people feel that bread stimulates the salivary glands, making guests hungrier. "Filling up on bread" might not be true, after all, and might even encourage hunger and larger food orders.
Bread service is classy.
There's no other way to say it. There's a reason the French dine with bread, including it in just about every course. More than many factors, bread service is a way to say, "I'm committed to the success of this meal."
How you serve your bread goes a long way, too. Offering a variety of bread options from a dedicated bread server is a great way to highlight premium service, while unique bread and butter plates is a great way to complement, or contradict, the overall table aesthetic.
Contradiction? One way to make an impact with bread and butter plates is to highlight those contrasting table elements. Instead of matching a bone white coupe plate, for example, consider décor on the periphery. With elements like wood, slate, or concrete, a bread service will certainly stand out and make an impression, highlighting all the benefits a bread service can provide. Bread plates are an opportunity to be creative.
Show the true nature of your restaurant with a premium bread service.