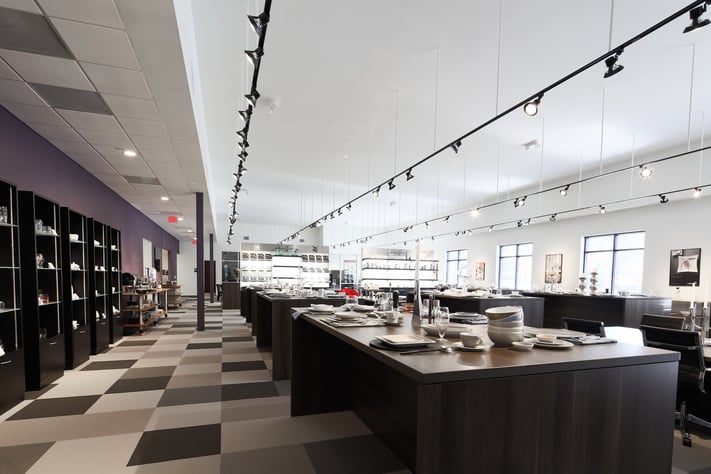 With locations in Raleigh and New York City, Bauscher Hepp offers showroom guests the chance to touch the plates, hold the forks and knives, and even drink wine from glassware. While these visceral experiences are certainly worthwhile, a visit to one of our Bauscher Hepp showrooms can provide an even deeper look at our company and our brands as a whole.
Here are three things you can learn in a Bauscher Hepp showroom:
ATTENTION TO DETAIL
Bauscher Hepp and the Bauscher Hepp brands are all about the details. From small aesthetic design features in the line of mogogo buffet solutions to important details of Bauscher's healthcare line, spending just a few hours in one of our showrooms is a reflection of our passion to pay attention to the details.
FUNCTION WITH FASHION
Yes, we represent a variety of European brands, and our designs certainly emphasize function. As you know, there's something to be said about German engineering. But our collections are fashionable and even beautiful, as well. When you look at a wine glass from Luigi Bormioli that is literally designed for a full range of Italian varietals, or you admire some of our classic Noble China, it's easy to see that function and fashion are not mutually exclusive.
At the same time, we are design-focused, not trend focused. That means we create our collections with the future in mind, not leaving our customers stuck with patterns they cannot replace.
OUR CULTURE
If you visit us in Raleigh, you might see a giant monkey seated somewhere in our showroom. His name is Bob, and he's a reminder to everyone that positive interactions with each other and with our clients is a representation of our company as a whole. We're in control of our own attitudes and interactions, and we believe in being fun, consistent, hospitable, and playful. Just ask our monkey.
Want to meet Bob? Schedule a visit to our Raleigh showroom today.
Closer to New York? You can visit us there, as well.