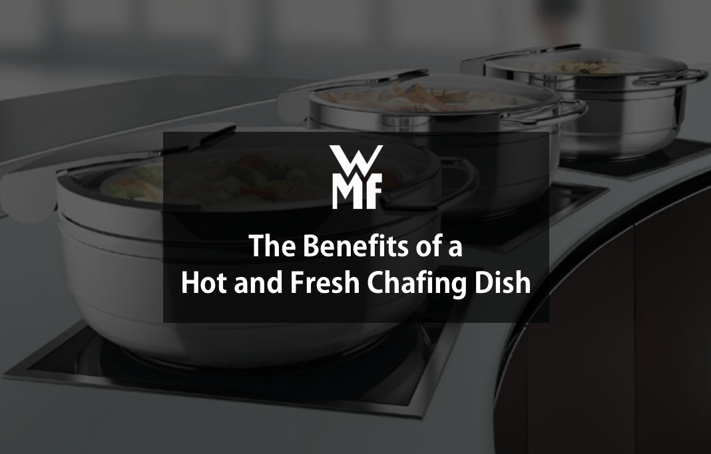 Chafing dishes come in various shapes and sizes with a whole range of features and options. As a result, selecting the right chafer can be a complicated choice, but it's an important one nonetheless.
Most successful buffets, banquets, or catered events will utilize chafers in some capacity. Some are round. Some use induction. Some have roll top, retractable covers, but there's one option from WMF that can offer more freshness, more flexibility, and more functionality.
Hot & Fresh Chafers from WMF are a modern option for any type of buffet service. Made with top-quality materials and innovative German engineering, Hot & Fresh Chafing Dishes provide function and fashion.
The Benefits of Hot and Fresh Chafing Dishes from WMF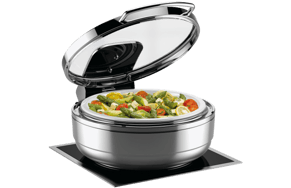 ATTRACTIVE DESIGN
It's been well documented that we first eat with our eyes. This is true when it comes to plating, but also when it comes to buffets. The overall success of a particular item on a buffet line will be impacted by how that item is displayed. This includes the vessels in which food is presented.
With a sleek, modern exterior framing a transparent glass lid, food displayed in a Hot & Fresh Chafing Dish is fashionable.
PERFECT HANDLING
Operators love Hot & Fresh Chafers from WMF because they're easy to use while still maintaining ideal performance. An encapsulated Transtherm® base, a transparent glass lid, and an intelligent condensation recirculating system provide optimal functionality on the buffet line.
Units have heat-resistant handles and are made from catering-grade materials. At the same time, they are fully operational with different types of heat sources while still maintaining consistent, high-quality food that will keep customers satisfied.
Are you ready to build a better buffet?
Beside chafing dishes, there are many factors and considerations for building a better buffet. What are the best ways to arrange your foods to maximize profits? How can you shorten customer wait periods? What equipment should you use?
Discover many of these factors in our free tips guide for building a better buffet.