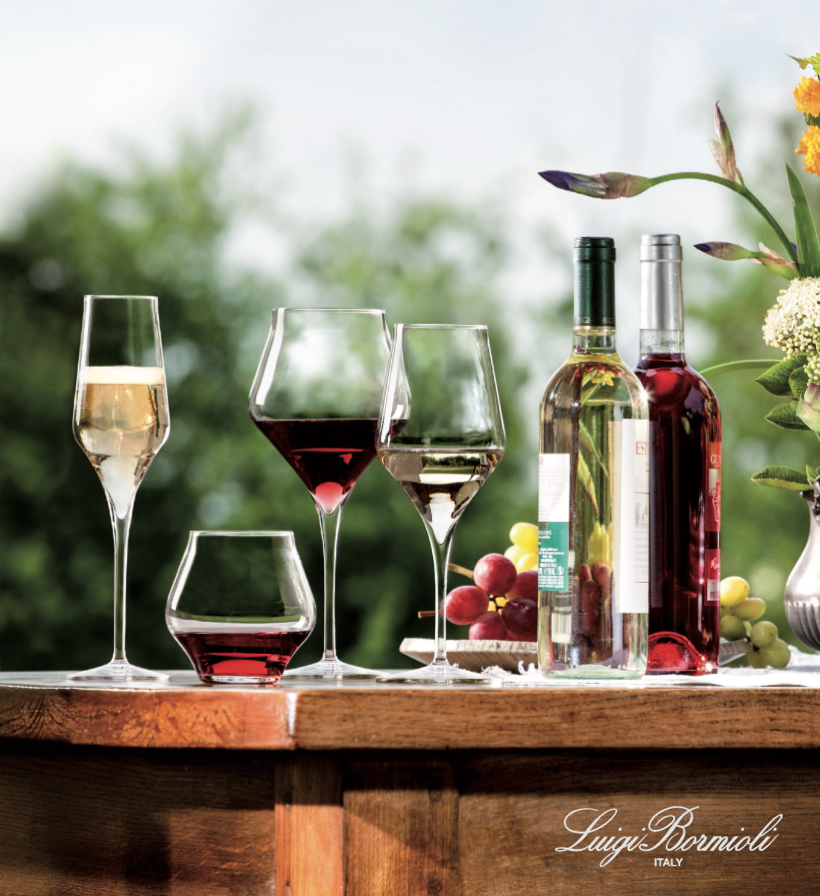 There's a function and fashion to wine glasses, both an anatomy and a physiology. When we use stemware, it adds an element of elegance to the table, and it brings out the best in one of the most enjoyable parts of any meal -- the wine.
Shapes have purpose.
Aromas should develop inside the bowl of the glass, and the alcoholic aromas should dissipate as quickly as possible inside the glass.
Wine should stay at ideal serving temperatures as long as possible, avoiding warming from human contact with the glass.
And ultimately, drinking wine should release the best parts of the wine, simultaneously, to satisfy the senses.
Let's take a look at some of the features and benefits to a wine glass by reviewing the anatomy and physiology of Supremo, one of our most popular Luigi Bormioli stemware collections.

The Anatomy of Supremo Stemware
1) A thin rim with high definition laser cutting
2) A lightweight bowl
3) Epicure indentation at the base of the bowl
4) Thin stem without mold seams that is highly flexible, robust, and Titanium-treated
5) Elegant stem-foot joint
6) Ultra flat foot

The Physiology of Supremo Stemware
1) The chimney balances aromas and directs wine to the center of the tongue
2) Conical shape condenses alcoholic vapors so wine flavors will develop
3) Smooth shape changes avoids breaking of aromas during the swirling process
4) Surface allows oxidation on the surface [A] with low oxidation underneath [B] to retain aromas
5) See the wine's true color
6) Ultra break-resistant stem
Selecting stemware for your wine or foodservice operation? Many of the same principles apply to glass quality, regardless of the type of wine you're serving.
Check out some of these selection tips in our Sparkling Wine Stemware Tips Sheet, or learn more about Supremo by downloading the Supremo Booklet.