Sustainability: the buzzword that seems to be everywhere. Not only is it more important than ever, it's also deemed a rising food trend in 2020. Restaurants and chefs are committing to transparency and sustainable practices. It's a step in the right direction, and being environmentally aware is crucial for the long term health and success of the food and beverage industry.

image by kstudio - www.freepik.com
Developing restaurant operations to be more sustainable is an ever evolving process that requires commitment to the mission, all for a greater impact in the industry. Here are a few things you can do to get started.
1) Keep the menu seasonal. Consuming seasonal food means it's fresher, tastier, and more nutritious than food consumed out of season. Buying your ingredients from local sources ensures the freshest produce possible and supports your local economy. In addition to making your restaurant more sustainable, it's also a great idea to increase restaurant profits and stay on top of food trends.
2) Small steps make a big impact. Use linen napkins instead of paper napkins. Print your menus on recycled paper. Compost leftover food. These are just a few small changes that can significantly reduce waste in your business.
3) Buy equipment and supplies from companies that practice sustainability. Using Energy Star rated equipment can help greatly reduce the cost of your energy bill and will pay for itself in the long run. Buying tableware and supplies from companies, such as BauscherHepp, who are conscious about material and packaging will also help cut waste.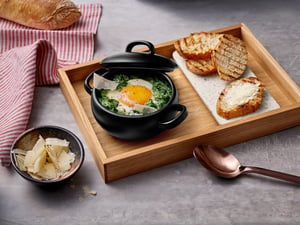 At BauscherHepp, we are dedicated to innovation and sustainability. To reduce waste, our porcelain is made of just a few natural raw materials and all ceramic waste is recycled. For new installations, we offer a choice of standard or bulk packaging for our porcelain, cutting down on extra packaging and labor. In our factories, we have installed energy efficient kilns that lower energy consumption by a third and reduce CO2 emissions. These changes and more are why we're the first in the global porcelain industry to be certified according to ISO 14001 and ISO 50001: international standards for environmental and energy management systems. These are just a few of our commitments to environmentally-friendly manufacturing. To read more about our practices, read here.
Check out our full range of environmentally-conscious tabletop solutions in the latest version of our BauscherHepp Design Guide.