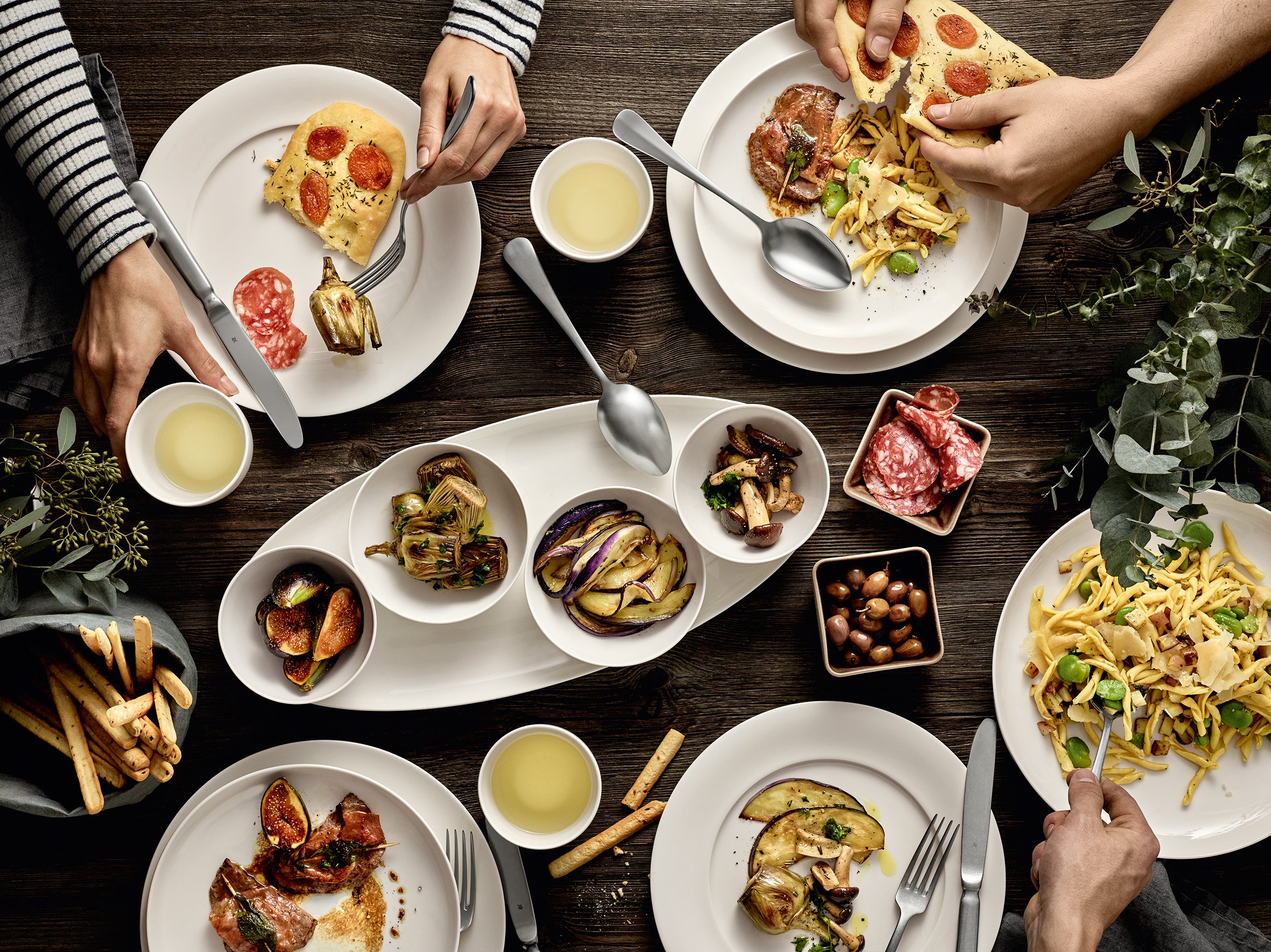 When we think about dinner service in Western culture, it typically involves sitting down to rolled cutlery, maybe a bread plate, a water glass, possibly a candle, or even a salt and pepper shaker. What you typically don't see is an empty plate, as plates are most often brought from the back-of-the-house with food on them.
In other cultures, though, dinner service can be quite different. Take the Republic of Georgia, for example. In a restaurant in the capital of Tbilisi, it's the norm to sit down, review the menu, and immediately have the wait staff bring over a set of coupe plates, flatware, and even a small napkin holder. Before a morsel of food even arrives, your table is set.
Why?
It's all about the culture of food in Georgia, mainly the fact their dishes are meant to be shared. As a result, their serving style is also cultural. When dishes start to arrive, they're designed to be divvied up, where every participant in the meal gets to enjoy every flavor that is placed on the table. Georgian cuisine isn't the only one designed for sharing, though setting the table may not be the standard practice in food-sharing cultures.
From the Pacific Rim to the Middle East, today's hottest cuisines are also some of the same countries that have a culture of shared dishes. This is a huge trend in foodservice. In fact, last year the National Restaurant Association listed small-plate menus and restaurants as the fourth most popular restaurant concept in their annual What's Hot Trend Report. This is only expected to continue.
For operators and chefs, this trend also means a shift on the tabletop. Taking the Georgian method of setting the table when a guest sits down means unique dinnerware patterns and designs will garner more attention. In effect, they're on the table for longer periods of time, some of that time without food.
It also means that shared plates deserve their own unique serving vessels. Dishes designed for the entire table should be displayed for the entire table, providing visibility and access from 360 degrees.

BauscherHepp has many options to accommodate this sharing style of service. From unique dinnerware décor inspired by many of these shared-food cultures to platters and shared plates that are designed to deliver, we invite you to explore our full BauscherHepp Design Guide to see what inspires you.