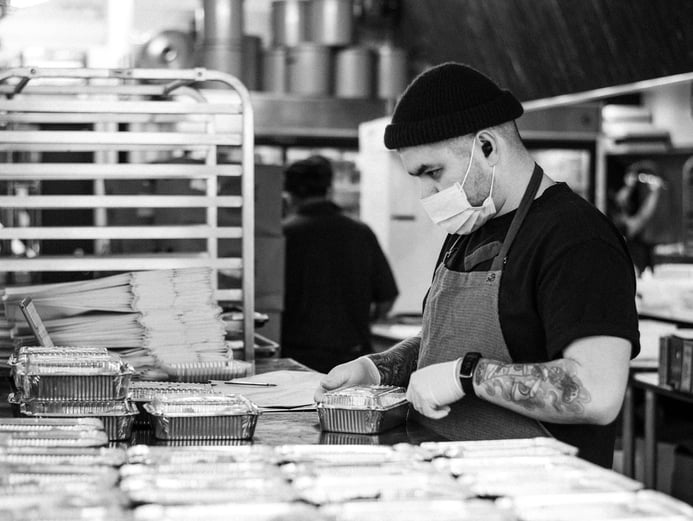 Image from Power of 10 Initiative website
Award-winning DC-based Chef Erik Bruner-Yang recognized very early on in this global health crisis the effect Covid would have on the restaurant industry and determined he didn't want to sit by and do nothing. He envisioned a way to get workers back on the job while safely re-opening restaurants to feed essential workers and vulnerable members of the community.
With this goal in mind, Bruner-Yang created The Power of 10, a non-profit initiative to channel donations into re-hiring restaurant workers laid off as a result of Covid-19. The idea was simple: if a restaurant were to receive $10,000 a week, it would be able to create 10 full-time jobs, which could then produce 1,000 free meals straight to its community.
In Chef Erik's own words:
Small businesses are the backbone of America and neighborhood restaurants are the anchors of every great community. Stimulating the local economy through neighborhood businesses allows its community to play a vital role in tackling the collateral damage of COVID-19. With the ability to provide jobs again, small businesses will relieve the unemployment safety net. Restaurants will also be providing quality hot meals and keeping the supply chain intact by supporting local farmers and vendors.
A small pilot program in Bruner-Yang's own Washington, DC began with some beloved restaurants: Cane, ABC Pony, and Maketto. On May 6th, the project received the backing of Capital One and has now grown to include 30 local restaurants in 8 cities: DC, LA, New York City, Chicago, Dallas, Baltimore, Charlotte, and Richmond. So far the Power of 10 Initiative has raised over $800,000 for these restaurants, and donated over 35,000 meals to the community.
You can see the positive impact this project has had in the video below from Bricia Lopez's Guelaguetza, which has been able to keep employees on and prepare free meals for healthcare workers. Please support this amazing project by donating if you can, or spreading the word!
We are so happy to be a part of a community that has done so much to help each other out during this unprecedented time. We will get through this together.
https://powerof10initiative.com/
We know this is a trying time for our industry, which is why we're continuously updating our Covid-19 Resources and Aid page with information about grants and initiatives to help.