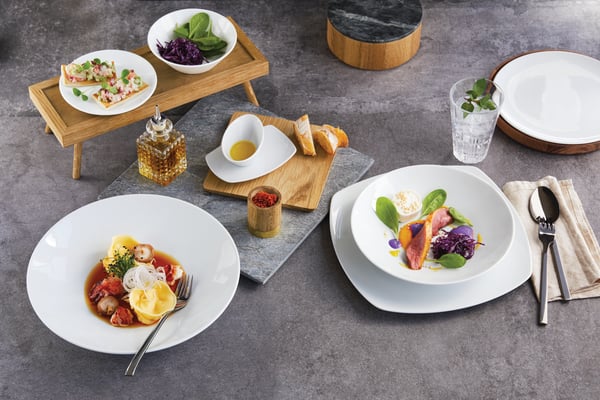 Plating on porcelain is the best way to present food hygienically and beautifully.
Hygiene and sanitation have always been front-of-mind for those in the hospitality industry and after months of closures and quarantines, we're thinking more than ever about the hygiene not only of where we're eating but what we're eating from. It's no coincidence that porcelain has always been the choice for food service. Its ability to withstand the rigors of catering makes it perfect for professional applications.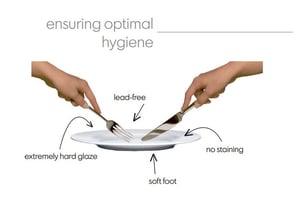 Chipped or scratched dinnerware is the optimal breeding ground for bacteria, but porcelain is the world's second hardest material after diamonds. Extremely high firing temperatures (2550° F) create an extremely hard glaze that is virtually impervious to metal marking, cuts, and abrasions. We even fire our dishwasher-safe decorated pieces at in-glaze temperatures, meaning the décor fuses with the glaze itself—it doesn't just sit on top to be scratched away at over time. In contrast to highly porous materials, porcelain has an extremely low porosity that doesn't absorb grease, odor, or bacteria. A strong glaze also prevents staining, which has a higher perceived cleanliness when compared to pieces with metal-marking. The naturally non-stick surface is easier to clean and prevents the buildup of germs and grime in pores and microscopic abrasions.
Bacteria and viruses survive best on lukewarm surfaces, and luckily porcelain retains heat more than almost any other material, meaning pre-warmed plates stay hot for longer, curbing the spread of heat-sensitive germs! You can explore all of our porcelain solutions on our Literature Page.
We know this is a trying time for our industry, which is why we're continuously updating our Covid-19 Resources and Aid page with information about grants and initiatives to help.