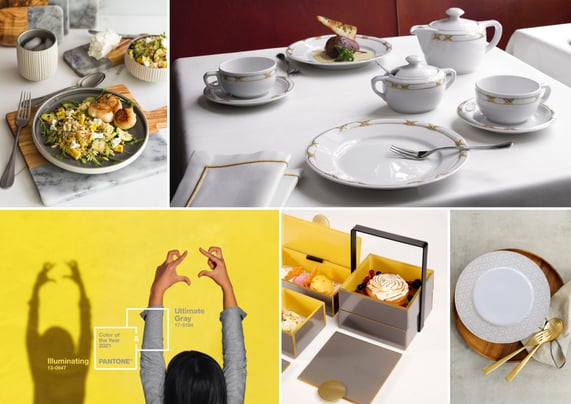 Featuring Nara Grey by Playground, Stuttgart Yellow-Gold by Bauscher, Pantone's Colors of the Year, Bento Boxes by MyGlassStudio, and Purity Favorites by Bauscher
A new year begins, and Pantone's Colors of the Year have been chosen! That's not a typo, by the way. For only the second time in history, TWO colors have been chosen for 2021: Ultimate Gray (a warm, light gray) and Illuminating (a sunny lemon yellow).
As they have every year for over two decades, the Pantone Color Institute spent months considering the cultural climate before arriving at their decision, which has a significant influence on a variety of industries including fashion, furnishings, and design.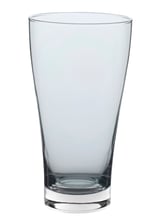 Executive Director Leatrice Eiseman of the Pantone Color Institute says:
"The union of an enduring Ultimate Gray with the vibrant yellow Illuminating expresses a message of positivity supported by fortitude. Practical and rock solid but at the same time warming and optimistic, this is a color combination that gives us resilience and hope. We need to feel encouraged and uplifted; this is essential to the human spirit."
We share this feeling of hope looking ahead. This last year challenged us all, but we are coming out of it stronger than ever. The resilience we have seen in the food service industry has been truly remarkable.
If you are also looking to share this message of hope and celebrate these two culturally significant shades, we have suggestions from some of our favorite collections. Brilliant yellow pieces in Bauscher's innovative Noble China, stylish Bento Boxes from our newest brand MyGlassStudio, as well as the smoky gray of Vidivi's Nadia glassware set the perfect table for 2021.
We wish you all a happy, healthy, and Illuminating new year. We can't wait to see what comes next.
We know this is a trying time for our industry, which is why we've put together our Covid-19 Resources and Aid page with information about grants and initiatives to help.