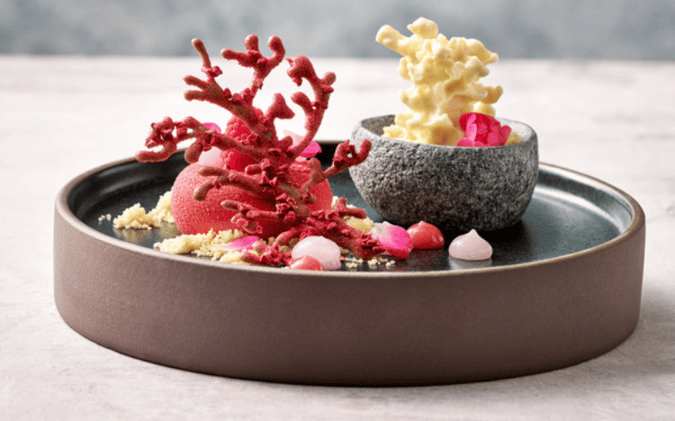 "We can never have enough of nature." - Henry David Thoreau
Every year on April 22, we celebrate Earth Day, which marks the anniversary of the birth of the modern environmental movement in 1970. And while we encourage our friends and followers to plant seeds, research composting options in their neighborhoods, or share helpful recycling tips with your friends, there are also aesthetic ways your table can honor this day. We've pulled together seven of our favorite collections that have been inspired by nature. From the rocky wonders of the mountains to the calming blues of the sea, we're sure there is at least one collection that will speak to your soul.
Bauscher
This spring, bring the rhythmic tides and airy foam of the sea to your outdoor patio with the Watercolor collection by Bauscher. These minimalistic products add a big impact to any dish you can imagine: from grilled lobster and seared scallops to creamy key lime pie and juicy mango sorbet.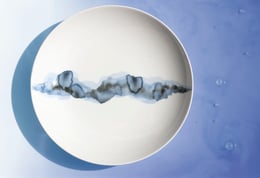 With product names like Salt and Coast, it's no surprise that this collection made the list. Hints of honeycomb, tree bark, and gentle waves are the bold details that highlight the Bauscher Smart Collection. Whether you choose clean white as your background pieces, or you prefer to mix and match blues and greens, you can't go wrong with any of these combinations.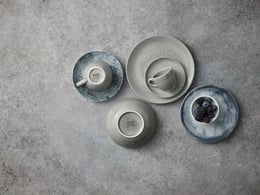 Sporadic flecks of gray and cream underline the clean design of this porcelain collection. With its elegantly simple palette, the Terrazzo Collection is the perfect complement to other materials and collections. Consider lightening up your dark charcoal winter plates or elevating your casual wooden trays.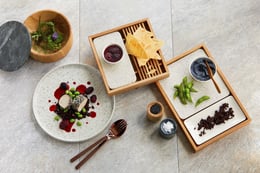 If you're looking to bring natural stone to your table, the Sandstone collection from Bauscher is where you want to start. Each piece mimics the two-toned effect you would see on many of Mother Nature's architectural achievements. With colors and surfaces that range from gentle beige to intense anthracite and silky matte to shiny glaze, we have a feeling you'll want them all.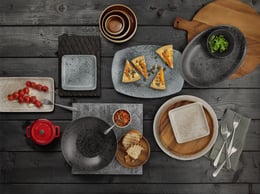 Playground
The Sea Collection by Playground is where the beauty of nature lands right on your dinner table. When we think of the untouched, exquisite landscape of the ocean, we think of gold shimmering sand, natural rocks, and deep, cooling water. The Playground Sea stoneware collection has this and more.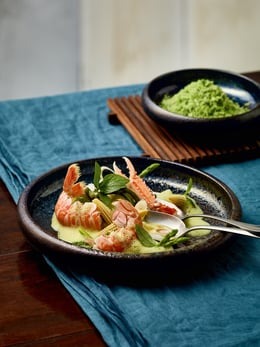 Who doesn't love the unique charm of hand-crafted pottery? Playground's 2in1 collection offers the next best thing. These minimalist stoneware pieces are not only beautiful, but they also provide function in unique ways. Almost every piece has two sides - shallow or deep plate, plate and saucer, bowl and plateau. With earthy shades of browns, beiges and greens, there are endless options for your table.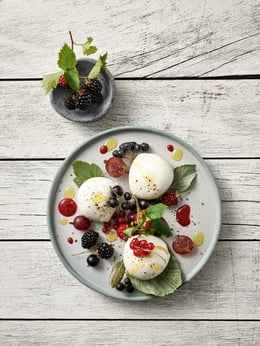 Hepp
During a meal, it may be the first and last product you touch and feel: cutlery. And no fine dining experience would be complete without it. Using a subtle and elegant design, the Mescana collection by Hepp adds the perfect blend of delicate details and natural world sensations - right in your fingertips.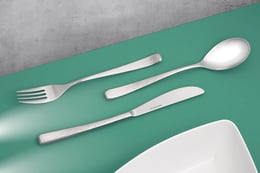 With al fresco dining just around the corner (and already swinging for some of us!), now is the perfect time to discover what natural collections you can bring to your outdoor dining experience. These collections are just the beginning of all the options we have to help you celebrate the spring and summer seasons. Reach out to your BHI representative today or contact us directly and let's bring your ideas to life!