Sometimes you get pairs that don't make sense, but we all know from experience that when you put certain opposites together, magical things can happen. Salt and sugar. Oil and vinegar. Citrus and spice. Even peanut butter on hamburgers can make for an interesting dining experience.
But what about Yin and Yang on the table top? What strange combinations can set your settings apart? It can happen when you combine Purity Noble China with the different materials available in our Playground collection.
Purity can be described as subtle, exclusive, intricate, and even innovative. It's delicate while being tough and durable at the same time.
Playground is a mixed bag, a teeter totter of inspiration that will have you going back and forth between its different materials. It's mixing and matching. It's an invitation to have fun.
But what happens when you put Bauscher Purity and Playground together?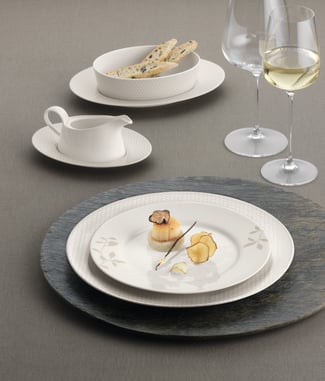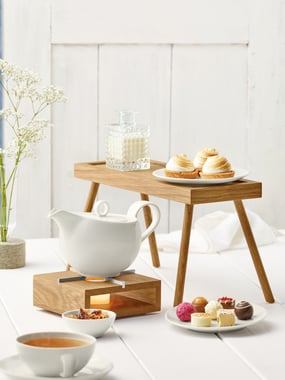 Some of Bauscher's porcelain offerings are specifically created to work with certain items from the Playground collection.
Purity squares is part of the Ananti system and can be featured on the elevated display stands from Playground. And new Purity Pearls in Grey, Olive, and Brown complement the three earth tone collections from Playground's Nara offering. The options are unlimited.
But why does mixing and matching tabletop collections that are so different and distinct seem to work?
This desire to build mismatched tabletops is called curating, and it's been a popular tabletop trend for the last few years. In an era when authenticity is critical for breaking through not just to diners but customers of any kind, mixing unnatural pairs is a way to be elegant and effortless at the same time. The irony, of course, is this style is built on the concept of curating an un-curated look.
Contrasts create interest. Playfulness provides less pretense. And opposites that attract are an easy way to deliver interesting, authentic dining experiences if you create the right combinations on your tabletop.
Interested in how Playground pairs with Purity in your dining room? Request samples from BauscherHepp.