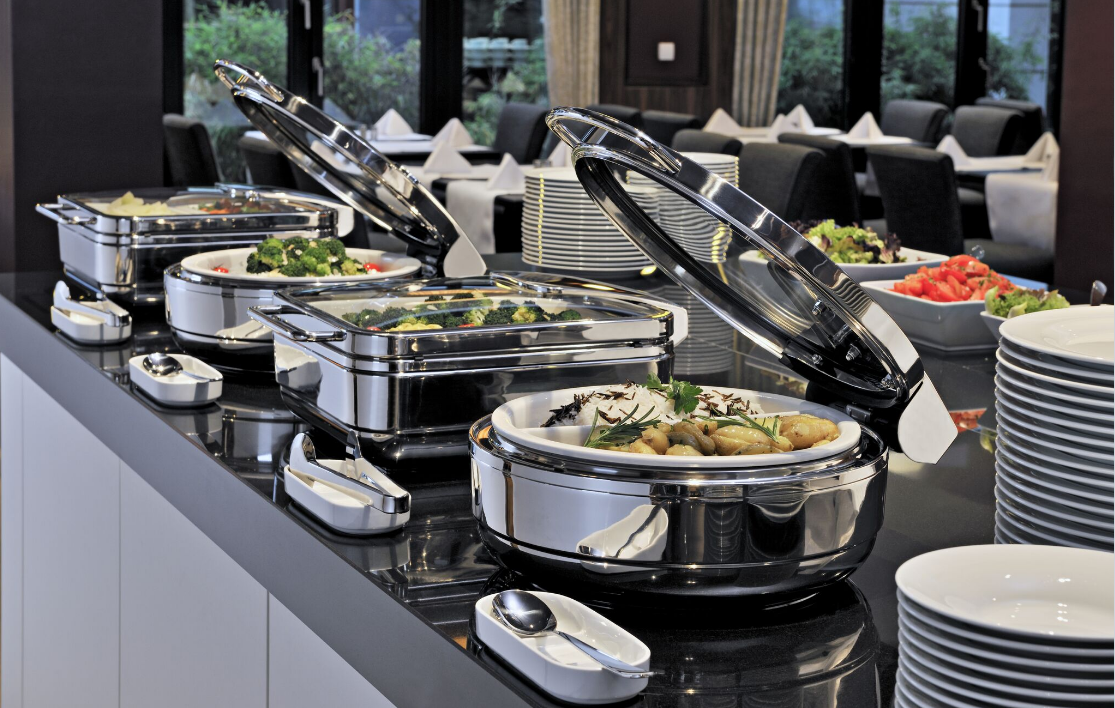 Why do people love brunch so much? Maybe a lighter schedule on the weekends gives eaters time to really enjoy their meal and socialize. Perhaps it's the opportunity to have a mimosa or Bloody Mary with their eggs. Or maybe people just like sleeping in. Whatever the reason, one thing is certain: brunch is booming.
According to research done by the Washington Post, brunch popularity is as high as ever.
Brunch buffets give patrons the chance to browse a collection of high-quality foods to pick and choose whatever they desire, while seeing some foods prepared right in front of them. But a brunch really stands out when special thought is placed to every component of the buffet line.
Here are some ingredients to consider when building the perfect brunch buffet:
OMELET STATION
An omelet station is an absolute must for any brunch buffet. Brunch is all about customizing your meal, and nowhere is that more appropriate than at the omelet station. Having a personable chef at the omelet station is key. Strike up some conversation while cracking a few yolks. Add the meat, the veggies, and the cheese, and you are well on your way to a beautiful brunch spread.
WAFFLES
Waffles are another opportunity for brunch-goers to see their food prepared right in front of them. Adding a waffle maker to the buffet line ensures that stale waffles at the end of brunch will be a thing of the past. Remember to include whipped cream!
COFFEE & JUICE
Coffee is the lifeblood for many. A coffee station is crucial, not only for brunch, but any buffet meal. Offer decaf coffee as well as milk, cream, and sugar, and it will leave coffee drinkers satisfied.
Don't forget about Vitamin C. Including orange juice at the buffet's beverage station is a no-brainer. Have several varieties of chilled juice ready to be dispensed. Perfect for the occasional mimosa or bellini.
FRUIT
Whether on its own or piled on top of a heaping order of waffles, fruit is an important part of the brunch buffet experience. Not only is it a colorful addition to the buffet line, but serving a plentiful amount of fresh fruit completes a well-rounded brunch.
CARVING STATIONS
Not every part of a brunch buffet can be breakfast foods. A carving station with a chef providing carved-to-order meat options like turkey, ham, and roast beef satisfies "brunchers" looking for more than just the typical breakfast fare.
BAKED GOODS & PASTRIES
Get the toasters ready. The importance of a brunch buffet with fresh baked goods cannot be overstated. Offer different types of bagels and breads (and the spreads to go with them).
What's brunch without dessert? Delectable pastries like Danishes, doughnuts, and even pie are the perfect way to cap off a delicious brunch buffet.
Buffet equipment is just as important as the food itself. Discover the latest and greatest in buffet service solutions with the Bauscher Hepp Buffet Guide.