Duralex was founded in 1945 on the banks of the Loire River just outside of Orleans. In the process of becoming one of the world's most recognizable glassware manufacturers, or possibly because of it, they invented the glass tempering process, but more on that in a bit.
Duralex is most famous for their Picardie glassware (pictured below), which was recently named by Business Insider as the drinking glass with the best design.
Their other most famous glassware collection is Gigogne (pictured above), which is in the permanent collection of the Paris Musée des Arts Décoratifs in Paris.
Even though Duralex is still created in La Chapelle Saint-Mesmin, it is a name that reminds all Europeans of their childhood days when they played games at lunchtime using the little number found on the bottom of their glass tumblers. They are synonymous with cafés across, not just France, but the entire world.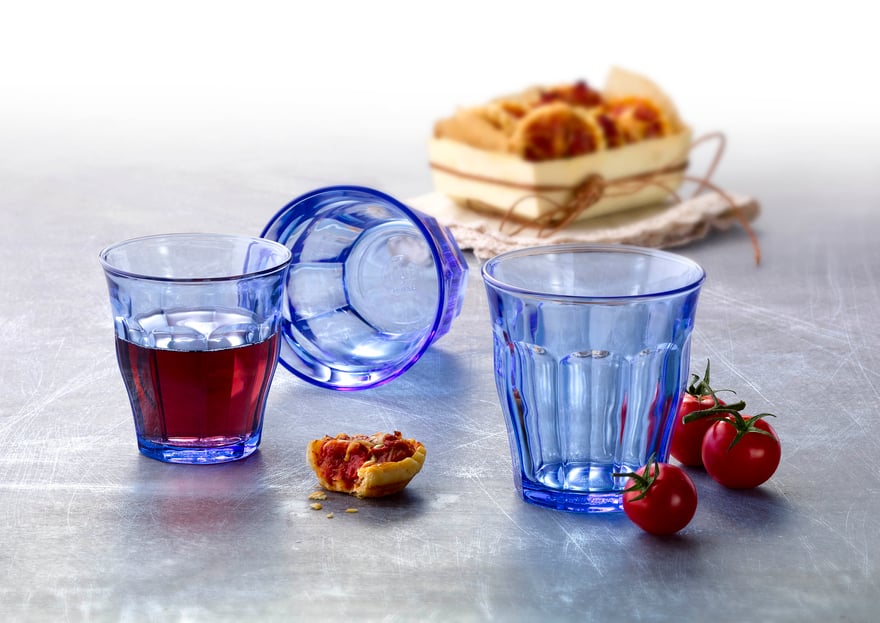 What makes Duralex so iconic?
Aside from the classic aesthetics, the tempering process has helped label Duralex as the "original French tumblers." Picardie, especially, is functional yet stylish and is extremely comfortable to hold.
No matter which collection you prefer, though, the glass tempering process will provide a wide range of benefits.
Let's take a look at some of the benefits of tempered glass:
* It's extremely durable. Duralex is chip resistant, can withstand impacts, and is 2.5 times stronger than ordinary glass.
* It can withstand temperature swings. Duralex is manufactured to handle sudden extremes ranging from -4º F to 212º F. It is suitable for both hot and cold liquids.
* It is safe and hygienic. If it does break, Duralex glassware is designed to shatter into small pieces, reducing the risk of injury. Likewise, non-porous Duralex glass does not absorb liquids.
* It's stackable. Save space and add convenience with stackable glass. You can also microwave it, freeze it, or use it in any type of warewasher.
Learn more about solutions from Duralex and the importance of tempered glass. Get the basics in the tempered glass discovery sheet.