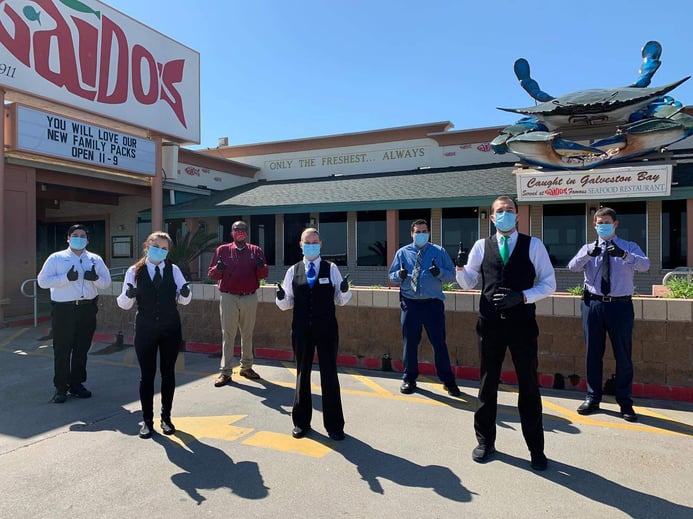 Image from Gaido's Seafood Restaurant Facebook page
Amid so much uncertainty, we love seeing acts of kindness from our friends in the hospitality community. One of the inspiring stories from last week came out of Galveston, Texas when Gaido's Seafood Restaurant and Nick's Kitchen and Beach Bar both reopened their doors to serve their community. Owner and Chef Nick Gaido released a statement on Gaido's Facebook page:
In our entire history of 109 years, we never could have imagined the situation Galveston, the United States, and the entire world is in. We have faced many challenges such as financial hardship and hurricanes but even all the hurricanes we have faced do not amount to the damaging effect caused by the pandemic. Who is most affected? Our employees, our families, all citizens. What can we do about it?
Starting today, we are bringing ALL of our staff back on board and will do our best to keep it that way. Effective immediately and for the next few weeks, Gaido's and Nick's will pay all hourly staff at least $15 an hour. The surge in pay will hopefully stabilize many household incomes that have been negatively affected.
Our salaried managers will receive full performance BONUS for the next 4 weeks.
Santa will be delivering Christmas BONUSES early.
Every day, we will provide family meal for our entire staff, until we reopen our dining rooms.
Finally, every Friday for the next 4 weeks (beginning tomorrow), Gaido's is going to supply FREE meals to Galveston's first responders including police, fire, and medical personnel. Meals will be available curbside in front of the BIG CRAB. Pick up times will be 11am-1pm and 5pm-7pm.
For 109 years, our customers and employees have given so much to the Gaido Family. These are just a few ways we can say THANK YOU for all you have done to keep our business alive now and in the past. You, the people, are our future.
Sincerely, Nick Gaido
We hope to continue seeing stories like this from the F&B industry in the coming days. We will get through this together.
We know this is a trying time for our industry, which is why we're continuously updating our Covid-19 Resources and Aid page with information about grants and initiatives to help.