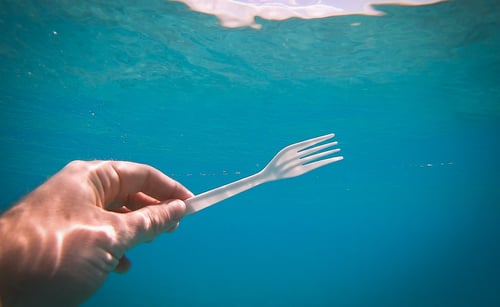 An increase in single-use plastics use has had unmitigated impacts across the globe
When the Coronavirus outbreak began in 2019, its effects rippled out in unusual ways to be felt in the most unexpected places. Once restaurants shut down, takeout became the only viable option, which necessitated a switch to single-use containers. Now that businesses have reopened, many have chosen to stay with disposables out of hygiene concerns.
Greenpeace's ocean campaign director John Hocevar says "the plastic industry seized on the pandemic as an opportunity to try to convince people that single-use plastic is necessary to keep us safe and that reusables are dirty and dangerous." Unfortunately, this option has led to an unprecedented increase in pollution. F&B operations comprise a large percentage of the nearly 10 million metric tons of plastic that ends up in the ocean each year.
With disposables, environmental waste isn't the only factor. There's a waste of time and money, with constant reordering and trips to the dumpster. Serving from flimsy plastic dinnerware also cheapens the dining experience for customers. So, the question becomes, what can be done to alleviate these concerns over both hygiene and pollution?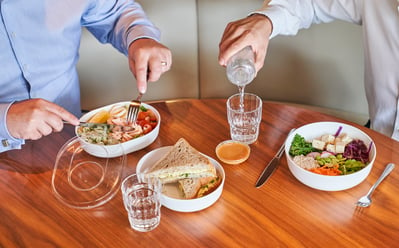 Dalebrook's Touch Free assortment includes a variety of solutions made from their ultra-durable, dishwasher-safe melamine. The newest addition to this concept is HU. Because it's made with quality materials, HU and the rest of Dalebrook's dinnerware can be used repeatedly and looks good as new, even after 500 cycles. One single investment in a long-lasting product eliminates the need to constantly replace disposable containers. When combined with matching lids, HU forms a closed-loop system from kitchen to guest, protected from airborne contaminants.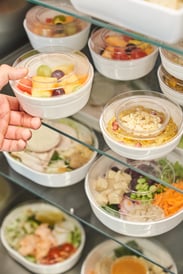 Pre-plated meals are easy to distribute for buffet, grab & go, in-room dining, cafeteria, or table service. Once done with their meal, guests simply return their dishes to be washed, dried, and redistributed. No more reordering plates just to throw them away, and no more waste in the landfills. Reusables are better for you, your guests, and the environment.