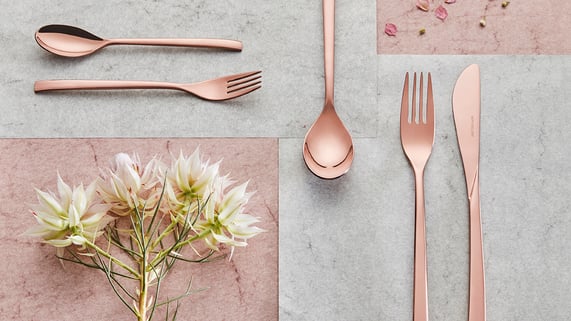 PVD Copper flatware like the Talia Copper collection above add zest to any setting
The oft overlooked cousin of gold and silver, copper is a naturally-occurring metal and gorgeous color. We looked into this metal's ancient history and modern applications of the shade in design.
The use of copper in human civilization dates back as far as 9000 BCE. The Ancient Egyptians used its naturally antibacterial properties to sterilize wounds and water. When combined with tin, it created the more durable bronze, which kicked off the Bronze Age. In ancient Rome, copper's beauty became associated with the goddess of love, Venus.
Long used in the manufacturing of currency, copper is associated with money and wealth. However, it is less valuable than gold and silver, and thus viewed as more comforting than luxurious.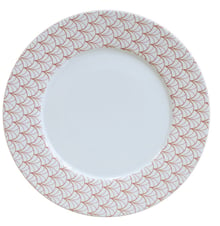 Skipping ahead to the late 1800s, the world became a little brighter when a new use for copper was discovered: electricity. Copper's conductive properties made it the perfect material for electrical wiring. Dichotomous uses in high and low society meant copper was everywhere, used as a building material for ships, plumbing, architecture, sculpture, and machinery.
Both luxurious and mundane; ancient and modern, copper's timelessness and versatility make it a perfect match for a variety of settings. Warm tones give the shade a homey, nostalgic feel, while its history in manufacturing gives it an industrial edge.
If you're drawn to metallics, but prefer something gentler than gold or silver, we have a wide range of copper items for the tabletop. We wanted to highlight just a few: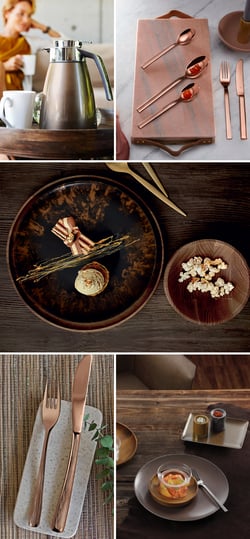 Top left: Bell Chocolate by Emsa
Stainless steel vacuum jug with an Aroma Diamond® glass liner. Timeless and classic, designed for one-hand use with a non-drip spout.
Top right: Unic PVD Copper by WMF
Flatware with a strong profile and a design-oriented silhouette with bold lines.
Middle: Options: Copper Waves by Bauscher
Swirls of copper color against a dark background on coupe plates, bowls, and platters.
Bottom Left: Mescana PVD Copper by Hepp
Fuses an elegant shape with a natural texture reminiscent of trees or ripples on water.
Bottom Right: Purity Pearls Copper by Bauscher
Subdued metallic elegance on Purity Noble China Body with a slightly textured surface for an eye-catching appeal.
We know this is a trying time for our industry, which is why we've put together our Covid-19 Resources and Aid page with information about grants and initiatives to help.