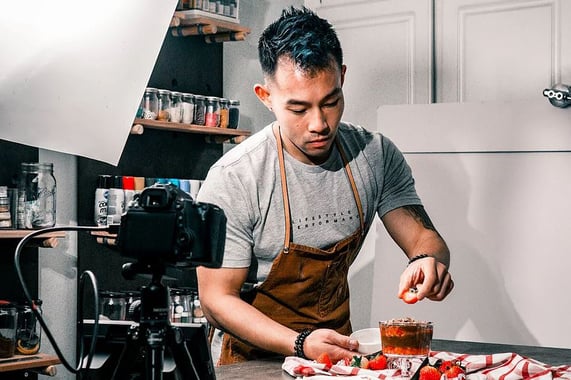 Photo courtesy of Wallace Wong's website: sixpackchef.com
Wallace Wong has come a long way since helping his grandparents in the kitchen as a child. Our Canadian friends in particular may recognize his name from a variety of Food Network television programs: he's won Fridge Wars and Chopped Canada, finished 3rd in Top Chef Canada, and placed as a top 10 finalist in Bake It Possible. We recently asked The Six Pack Chef some questions about his illustrious career.
Q: You're a chef, athlete, TV personality, podcaster, author, and entrepreneur. What came first? How did you end up where you are today?
A: I was actually a skinny child turned fat kid (I was diagnosed clinically obese) that grew up in a great food centric Cantonese family. Growing up my family never wanted me to be a chef and in all honestly neither did I. They wanted me to be the stereotypical immigrant family careers of doctor, lawyer, accountant etc. I didn't know what I wanted to be, I just knew I wanted to do something I enjoyed and to be my own boss.
This somehow translated over a decade of me figuring out and trying different avenues to learn that being myself and finding a way to make a career out of "me" was the way to do it. Food, Fitness, Life; those are the channels that have allowed me to do so hence why my brand Six Pack Chef is based on the three pillars of Eat Good- Look Good - Live Great!
Hence allowing me to bring knowledge to my audience and people through cooking, fashion, heath and nutrition, motivation etc through mediums like written, audio and visual (social media, videos, live seminars, ebook)
It's hard to say what came first as everything is connected to each other but I do think that out of all those aspects, food is the common thread.
Q: With all these achievements, is there anything you're most proud of?
A: I am most proud of being authentic in myself as a person and as a brand. I do not need to be or act like someone I am not. People follow and support me for me. To be able to have a career based on this is extremely humbling and an honour and I am always thankful for that
No product or companies to hide behind. Just Wallace.
Q: Your book is titled "How To Survive A Diet." Where did the name come from?
A: It came from me wanting to share my knowledge to people about how to be a better version of themselves via food and fitness: thus EAT GOOD-LOOK GOOD-LIVE GREAT. As a professional chef who is also an international fitness competitor for Canada, I wanted to use my experience to show people that you don't need to sacrifice flavor or enjoyment for a diet.
So the ebook has over 50 pages of tips and tricks I use on a daily basis to help me follow my diet given by my coaches and apply my expertise to make them incredibly enjoyable and tasty without hindering my fitness goals.
I also share recipes there that people can use immediately that helps them bring excitement and flavor into their meals. So with the tips, recipes and techniques... it's the ultimate survival guide for anyone looking to survive a diet!
Q: Speaking of how to survive… how has the current pandemic affected you and your work?
It has affected me drastically in a great way! I actually have not worked in a restaurant for over 6-7 years!
So just prior to covid, I made a leap effort to really focus on building Six Pack Chef and becoming self-employed. Thus covid has allowed me to learn something I always wanted to pursue to add to my skill set for my career: photography and videography!
I only picked up a DSLR and Editing software this year and self taught myself! It was not easy at all in the beginning but with more opportunities to practice (a lot of trial and error)It has also allowed me to really grow my brand. Furthermore because of covid, people have started to cook more than ever before and this let me reach out to a much larger audience that would not have had the time or interest too if the pandemic didn't happen.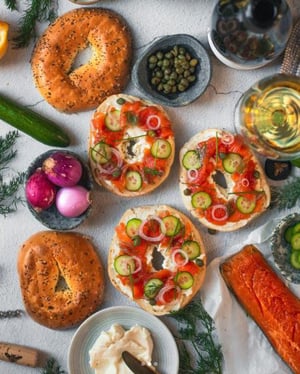 Q: Your plating skills are impeccable—what goes through your mind when plating a dish? Do you usually have a concept in mind or go with the flow?
A: Thank you first off for the kind words! It's one of my favorite things about cooking! For me it's about how can I elevate the flavors and textures in a dish. From there I look to see visually what can be done to highlight the flavors. For example layering components rather than plating them side by side forces a diner to eat every component but also experience it how you intended the textures to be eaten. Then you add in colors and plateware etc and you really get into some creative and unique plating.
BausherHepp definitely helps bring in different inspirations and I really enjoy having them as a "ingredient" in my cooking!
Q: You and an increasing number of chefs have joined TikTok. What impact has this had on your process and/or career?
A: I really have enjoyed TikTok. It has allowed me to reach audiences that I never have or could've in more saturated social platforms. There are sooo many chefs on TikTok that can create recipes or have a certain adlib or style, for me I am still searching for "me" but in doing so having fun.
The biggest impact is just engagement and attention. As weird as this sounds, with social distancing for Covid in place I've actually been able to connect and interact with more people than without social distancing.
Q: What do you think comes next for you?
A: The big near goal for me from a career standpoint is to have a successful show whether on TV, YouTube, Netflix, Amazon, etc. I think I have. a unique niche but a message that can appeal to a large audience. I love sharing my knowledge with people and I think having my own platform such as a show will really allow me to do so!
Be sure to follow Wallace on social media:
Tiktok, Instagram, Facebook, Twitter: @w2sixpackchef
We know this is a trying time for our industry, which is why we're continuously updating our Covid-19 Resources and Aid page with information about grants and initiatives to help.