Wine is enjoyed in many ways. For some, it's a casual event with good friends at the end of a long week. For others, it might be something to pair with certain types of meats or cheeses. But for the connoisseurs, wine should be studied and analyzed, dissected even, so we can fully understand the essence of the grape, the nature of the terroir, and the artistry of the vintner.
For connoisseurs, only the perfect glass will work.
Introducing the Tentazioni Collection from Luigi Bormioli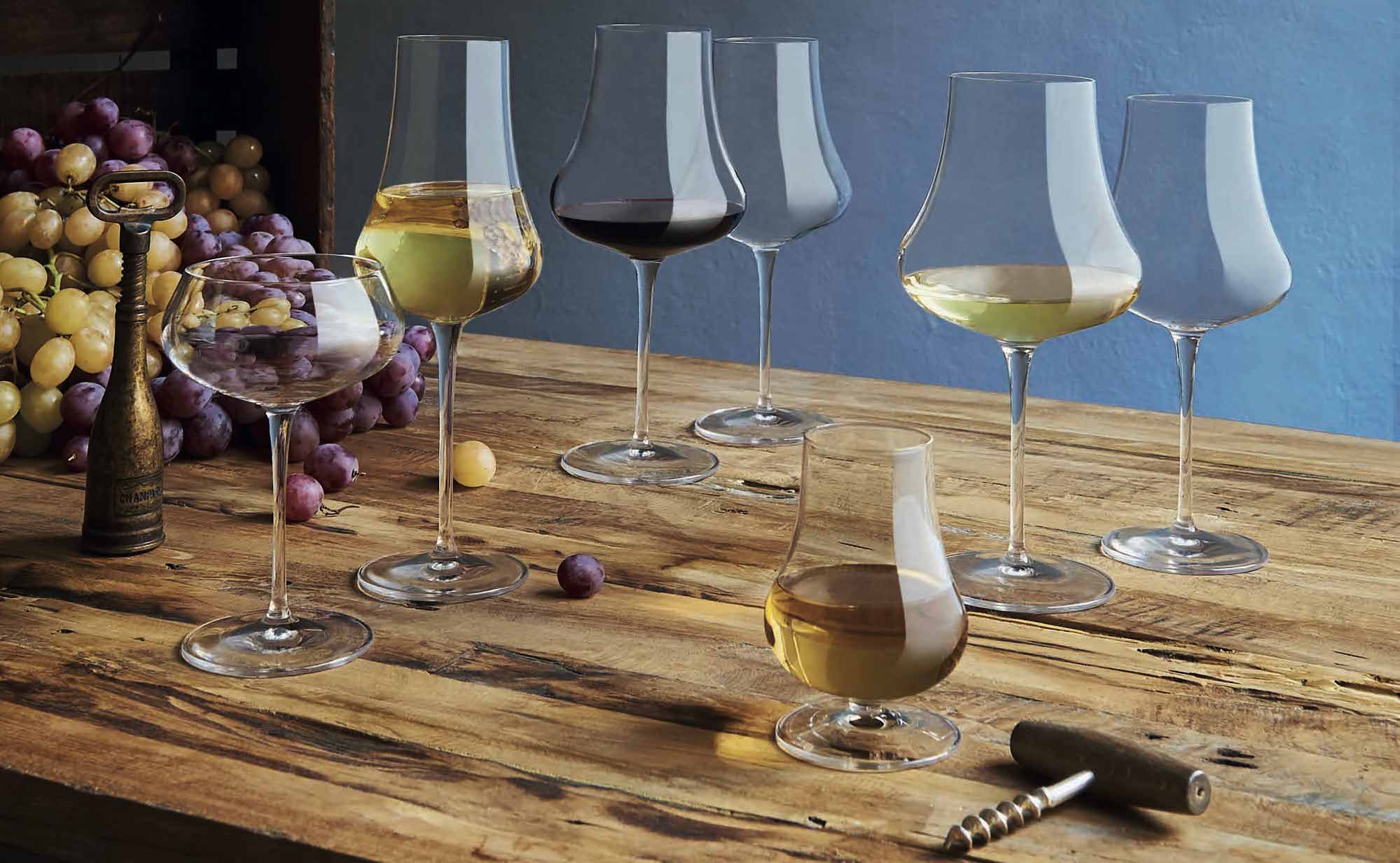 BORDEAUX
An elegant, sinuous and artistic glass, with a well-balanced stem and advanced technical properties for the tasting of substantial, structured and vintage reds. It brings out the most distinctive and valuable notes in every famous wine: rose in Barolo, dried fruit in Amarone, spices in aged Chianti.

ORANGE WINE TESTER
A large glass with an elegant yet technical shape, designed for complex Orange wines as well as structured or refined whites. The design allows for the most valuable notes to be revealed: fruits in syrup, pastry, spices.

MERLOT - RED WINES
Elegant goblet for young and fruity reds, it is designed with a cutting-edge technical form that, in expert hands, can bring substance and structure to any red, from Italy or elsewhere. The glass emphasizes the floral and vegetal background notes for greater complexity.

CHARDONNAY - WHITE WINES
A delicate and ergonomic glass designed to create a harmonious balance. The glass combines grace and technical design to emphasize the characteristics of fresh and light whites, especially the fine floral tones and the complex herbaceous and balsamic background notes.

PROSECCO TESTER
This flute boasts an innovative design thanks to its wide bowl, rounded at the base to direct the aromas along the long chimney. Elegant and delicate in appearance and to the touch, it offers excellent results in terms of the bubble in sparkling wines, emphasizing the style and hidden fragrances.

SPUMANTE - SPARKLING WINES
A glass with an air of traditional class and an elegant and ergonomic stem, which hides a technical design created for tasting sweet sparkling wines. The distinctive elements are enhanced in every aromatic style, from the floral notes of Moscato to the fruity notes of Charmat, and the vanilla in the Metodo Classico.

THE TESTER
A small, light and delicate glass with an elegant and contemporary look, but which is strictly technical, held exclusively from the base. When it comes to sensory evaluation, it acts like a magnifying glass, showcasing the floral tones in aromatic spirits, the spiced notes in aged spirits, and the peaty notes in whisky.
Would you like to see how the Luigi Bormioli Tentazioni collection would look in your operation? Request samples from BauscherHepp today.