As you can see, we like Italy here at BauscherHepp, especially as it pertains to glassware.
But while we're always enamored with the ancient history of this magnificent country and especially its capital city of Rome, its more recent history holds some gems, as well. Consider the summer of 1960, for example.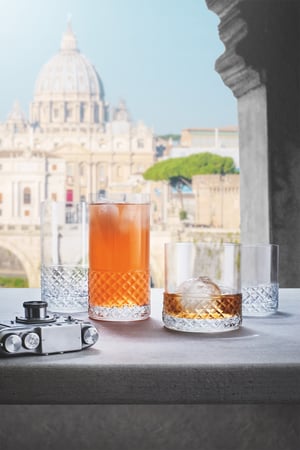 Nearly 60 years ago, the world convened in Rome for the Games of the XVII Olympiad. It was a golden time in the Eternal City, a perfect combination of athletics and Italian culture, making it the perfect host city for the Olympics. In essence, it was a natural confluence of classical Italy and modern-day sports.
This blending of ideas is also the inspiration for our latest collection of glassware.
The Roma 1960 collection from Luigi Bormioli provides a mid-century touch to the tabletop. Though vintage by nature, it includes some of the innovations that you've come to expect from Luigi Bormioli, including ultra-clear SON.hyx glass and stems that are treated with titanium.
The Roma 1960 collection includes glasses for a wide range of beverage selections. From Margaritas to Martinis, elegance and grace is the name of the game. While still maintaining an air of sportiness, square-cut optics provide a bejeweled effect to the entire collection.
We invite you to explore this collection in greater detail by seeing how it will look in your dining room. Request samples today.